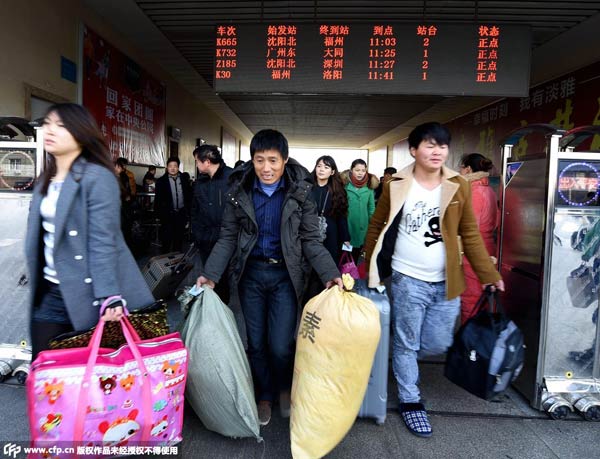 Migrant workers walk out of the Haozhou Railway Station, East China's Anhui province, Jan 18, 2014.[Photo/CFP]
The end of a year is usually a time to ensure migrant workers are paid their due wages. Given that many enterprises, especially small and medium-sized ones, are suffering because of the economic slowdown, it is likely migrant workers will face difficulties getting their wages before they return home for the annual Spring Festival holiday, which starts early next month.
The data released by a trade union in December indicate that cases of wage cuts or defaults involving migrant workers increased by 34 percent year-on-year in the first three quarters of 2015. Also, unlike the past, wage defaults are no longer limited to the construction industry; they have spread to other labor-intensive manufacturing sectors. This unfortunate trend could deepen because of the economic woes many domestic enterprises are suffering from.
According to a report from business news website Yicai.com, only 30 percent of domestic manufacturing enterprises can pay wages to employees on time and many of them have to lay off workers because of their financial difficulties. As a group that is widely believed to be in a disadvantageous position for lacking the bargaining power when it comes to employers, migrant workers are usually the worst victims of wage defaults.
A National Bureau of Statistics report in April 2014 said there were 274 million migrant workers in China, whose average monthly income was 2,864 yuan ($437), with 0.8 percent, or 2.19 million, of them being denied payment on time. The average per person wage default was 9,511 yuan. The lack of labor contracts between many migrant workers and their employers usually mean unpaid workers have no effective channels to resolve their pay disputes.
In its work report to the country's top legislature in 2004, the central government vowed to basically solve the wage default problem for migrant workers within three years. But the problem persists even today, although a series of measures have been taken by governments at various levels. The cash deposit system to be set up in some regions, which could be used to pay migrant workers being denied wages by their employers, has largely become ineffective because it has not been strictly implemented.
In the face of being denied wages, many migrant workers still resort to extreme means such as violent confrontation with their employers, or committing suicide or threatening to do so. In December, nine migrant workers in Anhui province climbed to the top of a high-rise building and threatened to jump down after they were not paid their wages. They were detained for a few days by police on the charge of "refusal" to come down from the building and threatening to commit suicide. That was only one of the many "suicide threats" migrant workers have used in recent years to get their wages. To help her migrant worker father get his years of overdue wages from his employer, a 14-year-old girl from Sichuan province jumped to her death from a building in North China's Hebei province in January 2015.
Wage default cases are usually resolved by government departments or officials to address public grievances after they become headline news, but the country is yet to set up a preventive mechanism or issue a set of effective regulations to prevent such cases. The extreme means some migrant workers use when their wages are denied, which are not rare, should prompt authorities to make efforts at the national level in order to provide relief to migrant workers by helping them get their hard-won wages on time.
Local governments have to put migrant workers' interests first and come up with concrete and workable measures, for example, making a blacklist of enterprises that intentionally default on migrant workers' wages and denying the enterprises credit to stop them from defaulting on wages. But in the absence of such systematic guarantees, labor departments, trade unions and public welfare organs should be ready to intervene to help the hardworking but usually underpaid migrant workers get their due wages before Spring Festival.
The author is a senior writer with China Daily.