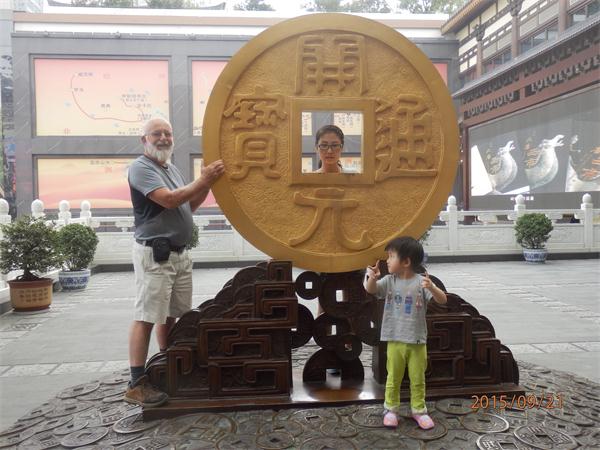 Grahame poses a photo with his female Chinese friend and her son in China on September 21, 2015. [Photo provided to chinadaily.com.cn] 
2015 was a great year for me as far as China is concerned. Perhaps you will say that my impressions are very much influenced by the Chinese people, as I have found many very friendly folk in the countries that I have visited around the world but none have been more friendly than the Chinese people that I have met over the past 10 years.
I will be quite honest in that I was quite reluctant to go to China when first asked by my company to go to there, in early 2005. However, in that first brief visit of just 5 weeks, I found genuine friendliness in the people at the company where I was at. On my third visit, in 2009, I was introduced to QQ, so now I have friends throughout China, many of whom I have personally met.
So, to 2015. The Chinese connection for this year began with a two weeks visit of a friend and her 6-year-old son (her husband had to work to pay for their trip, hehe). It was a wonderful experience for both of them, with a 2 day stay at a sheep farm being a highlight, and the young guy being so happy to attend a school here on one of those days (different to his attitude about school in China, his mum told me).
This was followed 6 weeks later by a visit from another friend, with her husband and 16-month-old baby girl. They stayed for 6 weeks, during the Chinese summer school holidays, and we managed to let them experience quite a bit of Australia, despite the fact that I was on crutches, having broken an ankle just prior to their arrival.
I was booked to fly to China with them on their return, but had to delay for 3 weeks, so I finally arrived in Pudong on 1st September. I base my Chinese visits in the city of Dan Yang, staying there with friends, and travel to other cities from there. This year I stayed some time with both families who had visited me.
The definite highlight of this year in China was to travel to Xi'an to attend the wedding of friends in Fu Ping. This was my sixth wedding in China; the first being the sister of the bride. At each wedding there has been some variations in customs, which have all been very interesting for me. One particular custom that I have now experienced 3 times, is where the bridegroom must ask (beg) for entry to his bride's home, with much passing of red envelopes before he is permitted inside. One aspect of Chinese weddings that is sad to me, is that the wedding couple are so busy at the reception that they barely have time to grab a snack, whilst all the guests gorge themselves on a lavish feast.
The way in which I am accepted into families in China absolutely dispels all those doubts that I had prior to first going to China, and shows that, despite small differences in cultural outlook, people in China are essentially the same as other people throughout the world; so very friendly and welcoming to lao wai.
If you want to share with us your experiences in China during the past year, please join us and you will have a chance to win a Kindle.
The opinions expressed here are those of the writer and don't represent views of China Daily website.