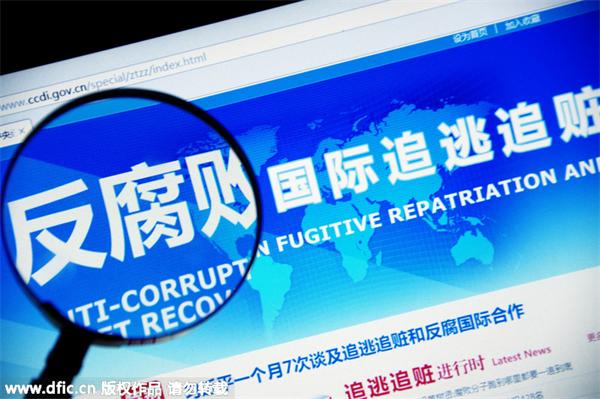 The Central Commission for Discipline Inspection (CCDI) of the Communist Party of China (CPC) opens a website to allow people to tip off the CCDI to corruption and other disciplinary violations. [Photo/IC]
The party chief of Chongzhou city, Sichuan province in Southwest China, was questioned at an intra-Party meeting about his report that he only owns one apartment of just over 62 square meters. The official Zhao Haoyu vouched for the accuracy of the story, promising that his house ownership is open to investigation. Beijing Youth Daily says the question has a lot to do with the real estate corruption cases disclosed recently, and calls for proper disclosure of officials' assets and incomes:
That Zhao's report on his personal assets was doubted by some of his peers, to some extent, indicates that the intra-Party supervision is taken and being implemented seriously. Yet, it is also noteworthy that many questioned an official's claim to have only one apartment.
In fact, although many officials are telling the truth with regards to their assets; the recent surge in real estate corruption cases has increased the public's distrust of officials' asset disclosures. Among the 21 provinces the Communist Party of China Central Committee's inspection leadership group has investigated in the past two years, 20 of them had real estate corruption cases. Some corrupt officials were even found to be "collecting houses" with a number of them in their ownership.
For a public servant, how many houses he or she owns should not serve as evidence of his or her political performance and integrity, as long as they are legally acquired and on the record. It is rather irrational, even a bit offensive, to disseminate wild speculation about a governmental employee's assets without any evidence to support allegations that they have been illegally acquired.
To regain citizens' trust and better protect civil servants requires an institutional cage in which the use of public power is strictly supervised and regulated. Proper disclosure of officials' assets and incomes, for example, would help eliminate rumors they were the fruit of graft and improve the governments' credibility.