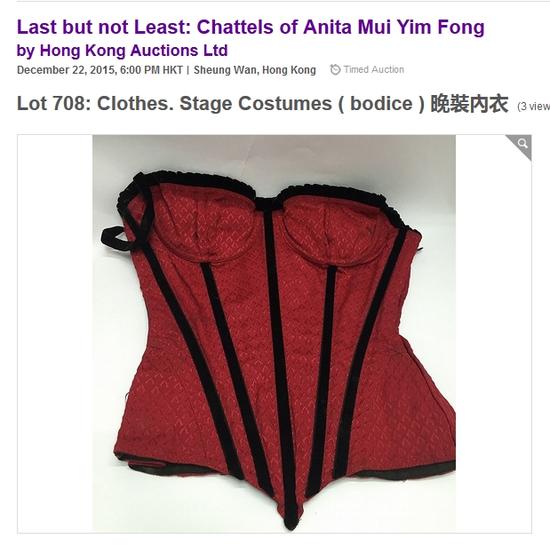 Chattels of Anita Mui Yim Fong are on display online for auction.[Photo/Xinhua news]
The personal belongings of Anita Mui Yim-Fong, the late Hong Kong singer and actress, are on display online for auction from Dec 10 to 22. Since the 3,178 pieces put up for auction by her estate administrator include her underwear, it has invited intense criticism from her fans and sparked a heated debate. A comment on Rednet.cn says:
Even though Anita Mui has passed away, that does not mean all her belongings and mementos, let alone her underwear, should be sold off. Auctioning the underwear of the icon after her death calls into question the ethics of those behind the move.
Traditionally, Chinese people believe that a departed soul deserves the ultimate respect, but it seems this is changing with the times. There are many ways to remember a departed soul, but auctioning her belongings is not one of them. According to the law, Anita Mui's estate administrator has the right to auction her belongings. The question is: Why should the auction sacrifice morality?
Underwear, no matter whether they belong to public figures or ordinary people, symbolize a person's dignity. Anita Mui would not have imagined even in her worst nightmare that her underclothes would end up in an auction. It is a form of insult. There has to be a bottom line for the way society treats the deceased, so that they can truly rest in peace.