When I moved to Hong Kong at the age of twenty-three, I gravitated toward Mainland communities there, namely the one at the university where I attended graduate school. I had studied Mandarin at that point for about five years.
I started teaching English to a Mainland graduate student named "Cai" that first semester. Although I didn't know this custom at the time, people in China back in the mid-1990s dated with the intention of marrying. As Cai and I met each night for English lessons, we talked about ourselves and I felt closer to him than guys I had very briefly dated in the US. But I kept wondering why Cai didn't ask me to a movie or dinner.
One night that all changed. He mentioned marriage and dating in the same sentence. We were engaged before we stepped off campus together for our first date.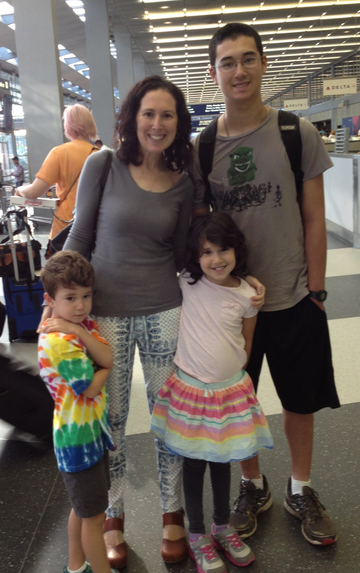 Susan and her kids pose for a photo. [Photo provided by Susan to chinadaily.com.cn]
For many reasons, our marriage only lasted five years. A decade after Cai and I had both re-married, friends shared advice that might have helped our marriage if we'd heard it earlier. One friend strongly suggested that international couples live in each other's home countries before agreeing to marry. Although I had traveled to China, I had never lived there before marrying Cai. And Cai had never touched foot in the US before marrying me.
We've been divorced for fifteen years now and our seventeen-year-old son—who has never been to China—is starting to think about a future there. As Jake applies to universities, he's looking for study abroad programs in China, preferably Shanghai, where his father now lives.
So how did Jake get to this point where he wants to study in China?
After I returned to my parents' home in Chicago when Jake was barely two, I made a point to teach him about Chinese culture. Cai stayed in California, then moved back to Hong Kong before returning to the Mainland with his new wife. So I was pretty much on my own with exposing Jake to his Chinese heritage.
I immediately sought out Chinese language classes for Jake. He studied Mandarin at various schools and centers from the age of two to thirteen, but only once a week, so the language never stuck. One of the reasons Jake wants to live in China is to learn Chinese and to have a place to use it daily.
Since remarrying ten years ago and having two more kids, I've made sure my whole family learns about Chinese culture. We eat mooncakes at the Mid-Autumn Festival, watch Dragon Boat races in Chinatown in the summer, and indulge in hot pot in the winters. I've dragged Jake to Chinese movies at film festivals in Chicago and Chinese New Year banquets with my Hong Kong graduate school alumni group. My six- and eight-year old children are so familiar with dim sum that they order for all of us when we go to Chinatown. I've also shared my own stories from my time in Hong Kong and China years ago.
It's important for me to raise Jake with a good understanding of his Chinese heritage, but equally special for me to make sure his siblings learn about their brother's background, too. Learning another culture was an important part of my young adult years and I want to give my kids that same opportunity, that same foundation, to be open to a world of possibilities.
Susan Blumberg-Kason is the author of Good Chinese Wife: A Love Affair with China Gone Wrong and a contributor to a couple of anthologies based in Hong Kong. She is currently working on a book about raising her kids with Chinese and Jewish culture.