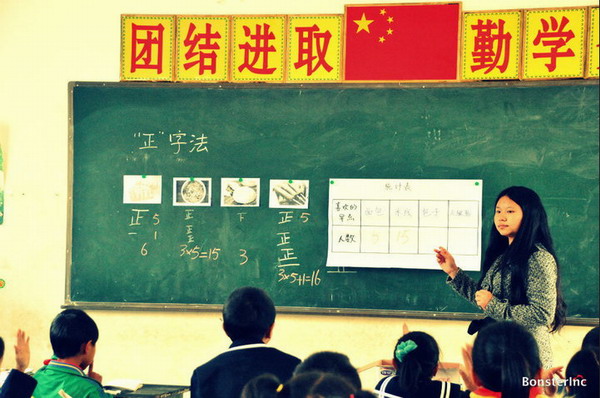 Zhu Min, graduated from Nanjing University, is in her class for the program of "Teach for China" in Dali of Yunnan province. [Photo provided to China Daily]
Sound system vital for rural education
Majoring in psychology during college, Zhu Min believes it would be more efficient for society to set up a sound educational system for rural youngsters. "To my mind, every student deserves a better future." Zhu says.
Her family did not agree with her decision to be a voluntary teacher in a remote area but after persuasion eventually gave in. "I want to live as I choose and I want to be one piece of this giant program and hopefully affect some of my students and make a difference to their lives due to my efforts," she explains.
Zhu plays down the physical punishment local teachers use to deal with troubled students. "That's the refection of the incompetence of the teacher and deficiency of teaching approach," she explains.
Apart from explaining the meaning of the regulations, she also tried to stimulate the interest of her students toward the course she teaches. Finally those efforts pay off.
"I know myself better and realize how important it is to insist on your choice," she said. "Independence is vital here and likewise that makes me cherish my family."
Contact us about this project at comment@chinadaily.com.cn