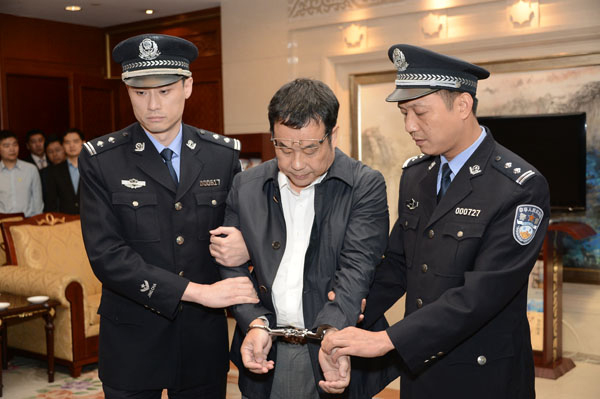 Policemen escorts Li Huabo, the second suspect from China's "100 most wanted economic fugitives" list, after he was repatriated from Singapore on May 9, 2015, as part of operation "Sky Net". [Photo/ccdi.gov]
With China intensifying the hunt for corrupt officials who have fled to other countries, it is becoming increasingly evident that the havens overseas are disappearing.
The recent issuance of global arrest warrants by Interpol China National Central Bureau for the 100 most-wanted corrupt officials who have fled overseas means China has opened a second front in the battle against these fugitives.
In the past, some corrupt Chinese officials, especially those whose family members had already settled in other countries, would flee China once any indications emerged they might be prosecuted. Incomplete statistics shows that at least 4,000 corrupt officials with stolen assets of more than 300 billion yuan ($48.4 billion) have fled overseas in the past three decades. Due to systematic and legal differences with other countries, as well as the lack of adequate coordination in this field, China has faced huge difficulties getting them home to trial.
However, this has changed, especially since the passing of an anti-corruption declaration by the participants at the Asia-Pacific Economic Cooperation summit meeting in Beijing last November and the subsequent willingness to cooperate expressed by the United States, Canada and Australia, the top three destinations for corrupt Chinese officials fleeing abroad. The growing systematic cooperation with other countries in fighting corruption means the days are numbered for those fugitives.
But despite the progress made in pursuing these fugitives, China is yet to address some urgent problems that hinder its efforts in this regard. It should sign a more detailed extradition treaty with other countries to institutionalize the hunt for fugitives, simplify procedures and shorten the time for their extradition.
The above is an abridgement of a Guangming Daily article published on Monday.