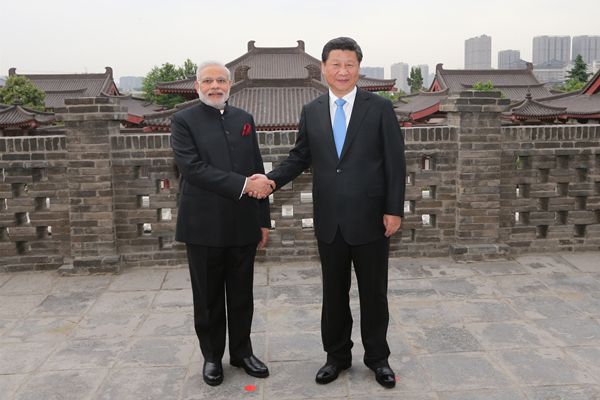 President Xi Jinping shakes hands with Indian Prime Minister Narendra Modi during their visit to Daci'en Temple in Xi'an, Shaanxi province, on Thursday. [Photo/Xinhua]
The three-day visit of Indian Prime Minister Narendra Modi to China was the first as head of government. But having visited China four times as chief minister of the Indian province of Gujarat, he knows the country well and hopes to duplicate its successful economic achievements. The Indian Prime Minister has an "Act East" approach to India's foreign policy and relations with China are a central part of that theme.
Modi's development agenda is similar to that of late Chinese leader Deng Xiaoping, and he is prepared to collaborate with China to improve bilateral economic ties. During his just concluded visit to China, business agreements worth $22 billion were signed between the two sides, with the focus being on infrastructure. These deals will create many jobs in India and help narrow the large trade gap between the two countries, which has grown from $36 billion last year to $48 billion (of a total trade of $71 billion) this year.
But India and China are also engaged in a hedging security strategy that involves the United States and Japan. Over the past few years, India has moved a bit closer to Japan and the US on security issues to bring about a multi-centered balance of power in Asia. And China's generous proposals on economic issues are one strategy to counter these moves. In fact, China and India have recently downplayed strategic differences such as the disputed border and each other's links with problematic neighboring states (for example, Japan for China, and Pakistan for India) to set a positive tone for strengthening bilateral ties.
The two sides have also agreed to confidence-building measures such as establishing a "hot line" between their military headquarters, setting up meeting points for security personnel along their disputed border, and holding anti-terrorist and naval exercises.
Modi is determined to make India a country that counts in the Asian balance of power, which is characterized by shaping the foreign policy in a way that would strengthen the country's economy. And Modi has the political stability, which earlier Indian governments lacked, to work toward his goal because last year his Bharatiya Janata Party became the first single party in three decades to win outright majority in parliament.
For world leaders, added to India's attractiveness is its population of 1.2 billion, the second-largest in the world, its strong economic growth, predicted to be 7.6 percent this year (higher than that of any other BRICS member), and its vital geographic location as a vast peninsula stretching more than 1,000 miles into the Indian Ocean. India also has one of the world's most capable security force structures, which includes nuclear weapons and sophisticated delivery systems.
Modi and Chinese President Xi Jinping get along well and respect each other as a partner for closer cooperation. They already have a cooperative relationship in the China-proposed Asian Infrastructure Investment Bank. In addition, China has agreed to support India's bid for full membership in the Shanghai Cooperation Organization and the multilateral Nuclear Suppliers' Group.
There is, therefore, much scope for deeper relations between the two Asian giants, especially because Asia has very few multilateral organizations to address such common problems as pollution, global warming and security. And as Modi takes steps to implement his "Act East" policy, China seems to have grasped this opportunity to build even stronger economic and strategic ties with India.
But challenging bilateral relations are issues such as the border dispute, China's strategic ties with Pakistan and India's relations with Japan. The future of Asia depends on how India and China address these challenges.
The authors are associated with Tongji University in Shanghai and the School of Advanced International Studies of Johns Hopkins University in Washington DC.