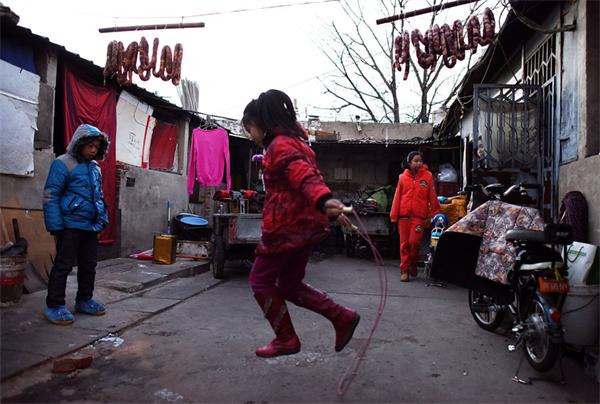 Jiajia and Tongtong (alias) play in the yard during the holidays. They both go to the boarding school and their parents are migrant workers striving for better life. [Photo by Huang Liang/Beijing Youth Daily and Asianewsphoto]
Migrant workers have played and are still playing an important role in China's industrialization and urbanization, but they lack necessary social welfare in terms of employment and retirement benefits compared with urban workers.
True, the authorities have taken steps, including providing a monthly subsidy of 55 yuan ($8.9) each to senior citizens in rural areas, but the amount is too small to meet even the basic needs of these people.
With China's growing aging population, many people in rural areas are becoming old before becoming well off because they don't get basic pension and have no old-age security.
According to National Bureau of Statistics data, the number of migrant workers gradually increased from 2010 to 2014; it reached 273.95 million in 2014, with the number of migrant workers above 50 years being more than 46 million. Incidentally, the number of young migrant workers gradually declined between 2010 and 2014 while that of their older counterparts increased.
The percentage of migrant workers between 21 and 30 years dropped from 35 in 2010 to 30 in 2014 and that of migrant workers above 50 years increased from 12 to 17. This reflects the structural change in China's workforce because of the demographic change brought about by the family planning policy. Migrant workers above 30 years are making up for the lack of young working population and, to a certain extent, have stabilized the workforce. This could have reduced the negative impact on the economic transformation and sustainable development of China.
But older migrant workers have been deprived of fair social security welfare. The media and public have been trying to bring the poor living and working conditions of such migrant workers to the notice of the authorities. For example, the media highlighted the plight of 72-year-old Jin Chunbo who died of heatstroke while cleaning a street.
A majority of street cleaners are above 50, and yet they work as causal workers without the benefit of any labor contract. On Nov, 2014, the media reported that some middle-age workers in Lanzhou, Gansu province, were compelled to sign a document saying they would be responsible for any physical injury they sustained during work. This shows how important it is to provide occupational security to older workers.