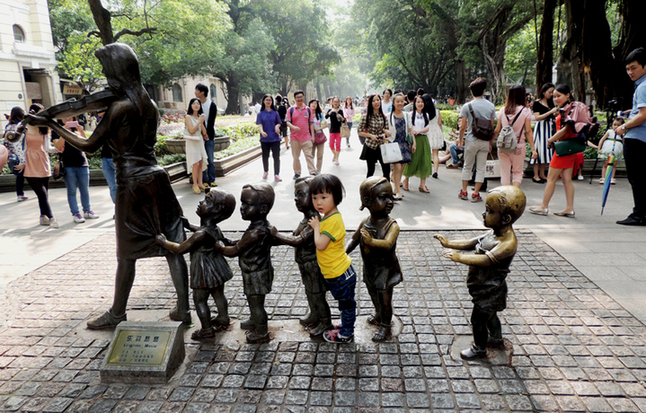 A little girl stands among the bronze statues in the Shamian Park of Guangzhou, South China's Guangdong. 
Strolling through the quiet, tree-lined streets of Shamian Island in the heart of Guangzhou makes one believe in magic. It is as if you traveled to a distant place far from the bustling metropolis yet you are only steps away from the megacity.
Shamian is tiny but rich in history of great significance. During the Second Opium War of 1857-1861, the United Kingdom and France gained control over the island. European influence poured into the neighborhood as gothic and baroque styles swept through Shamian. Ornate villas, elegant schools, churches, exotic shopping centers, banks, hotels, and consular buildings of world's nations marked the architecture of the island. The People's Republic of China regained Shamian in 1949 and preserved this tiny slice of Europe.
Among the charming mansions that have been pleasing the eyes of visitors for more than a century, a curious tourist will observe numerous bronze statues that decorate the streets and parks on the island and tell its stories – sometimes light-hearted and comical, sometimes emotional and moving.
The sculpture of a young governess playing violin, and four small children following her while a fifth boy tries to catch up, deeply touched my soul. At first sight it wasn't clear what message the sculpture intended to convey. As I pondered several ideas about this procession and walked nearer to it, its meaning became sharp and astonishing. The children… they were blind. Their light was the young governess who used sound to caringly lead these sweet children on a journey to experience life through the language of music.
Strong emotions poured into my heart. As I stood there in awe, a little girl ran up to the statues and put her hand in the hand of the straggling boy as if to help her bronze friend who couldn't see. No one in the park could hold back their tears.
Through this work the talented sculptor gave people a powerful reminder about our collective responsibility to help and care for children, especially those who struggle in life. The sculptor also reminds us that no matter which language we use to communicate, the language of music is universal. Through music we experience that which cannot be conveyed in spoken words.
There may be as many as six thousand languages in the world. Naturally a Zulu villager will not understand a city dweller from New York, nor will an Ecuadorian understand an Eskimo, yet all four will unite in understanding music!
For centuries humans have made futile attempts to seek one common language in order to create understanding in the world. But that language already exists from the early ages and to this day – the language of music, the one that knows no borders, no limitations, and sends the message of human feelings and emotions to all.
Music brings people closer and creates feelings of connectedness. Let us all experience this gift! Enjoy music with your friends and family, create music yourself, and share your stories with the world!