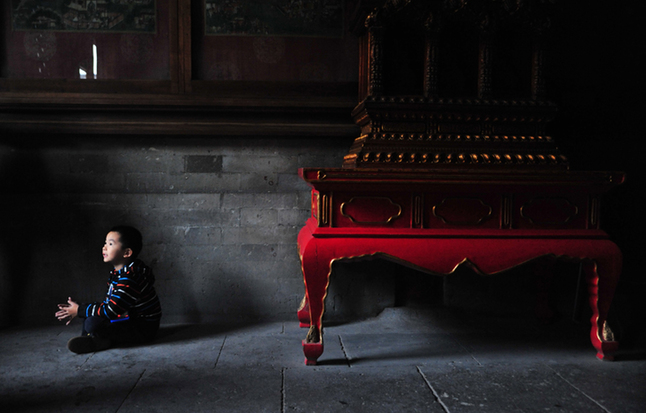 A boy sits in the Yonghe Lama Temple in Beijing's Dongcheng district.
On a rainy day visit to the Yonghe Temple (also known as the Palace of Peace and Harmony, or more commonly the Lama Temple) in Beijing's Dongcheng district, I was admiring a beautiful red traditional cabinet, when a boy went to sit near it and looked up at someone calling him through a side window. As the natural light illuminated his face I quickly pressed the shutter. It was one of those moments a photographer needs and relies on, when some luck comes his way and the camera responds well. In this case, the low light might have blurred the picture but, in fact, it came out pleasingly sharp.
The temple was constructed in the late 17th century and originally served as a residence for court eunuchs. It was eventually converted into a lamasery, a monastery for Tibetan and Mongolian Buddhist monks. It consists of five main halls, arranged on a north-south axis.
What caught my attention more than anything was the beautiful traditional furniture in the complex, with this bright red and gold piece being a good example. In time, I hope to learn more about the art of traditional furniture making in China.