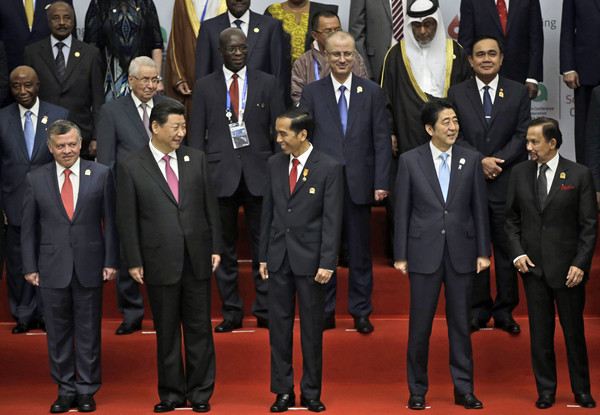 Front row from left to right, Jordan's King Abdullah II, President Xi Jinping, Indonesia's President Joko Widodo, Japan's Prime Minster Shinzo Abe and Brunei's Sultan Hassanal Bolkiah prepare for a group photo during the Asian African Summit in Jakarta, Indonesia, on Wednesday. DITA ALANGKARA / ASSOCIATED PRESS
President Xi Jinping's speech, delivered at the Asian African Summit in Jakarta on Wednesday, marks China's latest contribution to Asian-African cooperation. It will also inject new vitality into the time-honored Bandung Spirit.
Sixty years after the birth of the Bandung Spirit, which features solidarity, friendship and cooperation, the principles it upholds are still relevant today. Peaceful co-existence and win-win cooperation should continue to guide international efforts to build a new type of nation-to-nation relationship and a more balanced international order.
Xi put forward a three-point proposal in deepening Asia-Africa, South-South and North-South cooperation so that developing and developed countries can all join hands in the building of a community of common destiny for all mankind.
Just as Xi noted in Jakarta, the world is still not peaceful. Issues such as regional unrest, terrorism and deadly epidemics still pose severe threats to global peace and development. Against these backdrops, the only reasonable choice is for countries to pursue common development and all-win cooperation.
Over the years, China has remained a staunch advocator and a driving force for meaningful Asian-African interaction. The Silk Road Economic Belt and the 21st Century Maritime Silk Road, proposed during Xi's visit to Central Asia and Southeast Asia in September and October 2013, will promote greater cooperation.
The Belt and Road are international trade and infrastructure projects which will thread Asia, Europe and Africa together. They encompass some 63 percent of the world's population.
Marking an important step forward, China's $40-billion Silk Road Fund unveiled its first project for investment during Xi's state visit to Pakistan this week. The $1.65-billion Karot hydropower project in Pakistan, along with other hydropower projects in the region, will help the South Asian country upgrade its power supply and improve its economic performance.
As Xi said, the land and sea routes will be a real chorus comprising all countries along them, not a solo affair for China. And he reiterated in Jakarta that China is willing to spearhead the initiative with all parties. More than 60 economies have shown their interest in joining the routes, and we believe the ambitious plan will create a better future for Asia, Africa and the world.