Xi raises three-point proposal on carrying forward Bandung Spirit
Updated: 2015-04-22 21:11
(Xinhua)
Comments
Print
Mail
Large
Medium
Small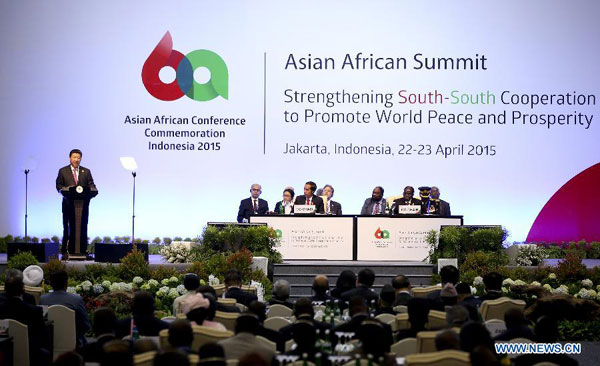 Chinese President Xi Jinping (L) delivers a speech at the opening ceremony of the Asian-African Summit 2015 in Jakarta, capital of Indonesia, April 22, 2015. [Photo/Xinhua]
JAKARTA - Chinese President Xi Jinping on Wednesday urged Asian and African nations to carry forward the Bandung Spirit and work together to promote the building of a community of common destiny for all mankind.
Speaking at an Asian-African summit here, Xi brought forth a three-point proposal on realizing that grand vision in line with the time-honored Bandung Spirit of solidarity, friendship and cooperation, which he said remains relevant and potent today.
The first is to boost Asia-Africa cooperation, he said, suggesting that countries on the two continents pursue all-win common development, align their development strategies, and translate their economic complementarity into a driving force for common growth.
The second is to expand South-South cooperation, Xi added, pointing out that developing countries, faced with similar missions of speeding up development and improving people's living conditions, need to join their forces and march forward together.
Meanwhile, the Chinese president also called on Asian and African countries to beef up cooperation with developing countries in Latin America, the South Pacific and other regions.
The third is to promote South-North cooperation, Xi said, stressing that cooperation between the developing and developed camps should be based on mutual respect and equality.
It is a binding obligation of the developed countries to help boost the development of their developing peers and narrow down the South-North gap, added the Chinese president.
The developed countries, he suggested, should fulfill their aid pledges and increase their assistance for the developing world with no political strings attached.
Meanwhile, the president said his country will work with relevant parties to jointly advance the "Belt and Road" initiative and the establishment of the Asian Infrastructure Investment Bank, and make better use of the Silk Road Fund.
China, said Xi, will provide 100,000 training opportunities for developing nations in Asia and Africa in the coming five years.
In addition, a total of 2,000 Asian and African young men and women will be invited to visit China and attend a series of youth get-togethers, said the president.
In his opening remarks, Indonesian President Joko Widodo said the Bandung Conference, which was held 60 years ago, demonstrated the solidarity of Asian and African countries.
Given the prominent inequalities and injustices in the international community, said Joko, the Bandung Spirit still holds realistic significance today.
Indonesia, he added, stands ready to work together with other developing countries to advance the building of a fair and justified world political and economic order.
Zimbabwean President Robert Mugabe said in his speech that the African continent is facing arduous development tasks and is in urgent need of international assistance in key areas such as infrastructure.
He added that Asian and African countries should carry on the Bandung Spirit, consolidate their unity and make joint efforts in building a fair and balanced international order.
The two-day summit is expected to adopt three documents -- the Bandung Message, the Declaration of Re-invigorating New Asia-Africa Strategic Partnership and the Declaration on Palestine.
Schedule
Chinese President Xi Jinping will visit Pakistan and attend the Asian-African Summit and activities commemorating the 60th anniversary of the Bandung Conference in Indonesia from April 20 to 24.

April 22
Attend the opening ceremony of the Asian-African Summit;
Meeting with Indonesian President Joko Widodo;

April 23
Bilateral meetings;
Attend the closing ceremony of the Asian-African Summit;

April 24
Historical walk from Savoy Homann Hotel to Gedung Merdeka;
Attend activities commemorating the 60th anniversary of the Bandung Conference;