Asian-African summit opens in Jakarta
Updated: 2015-04-22 11:55
(Xinhua)
Comments
Print
Mail
Large
Medium
Small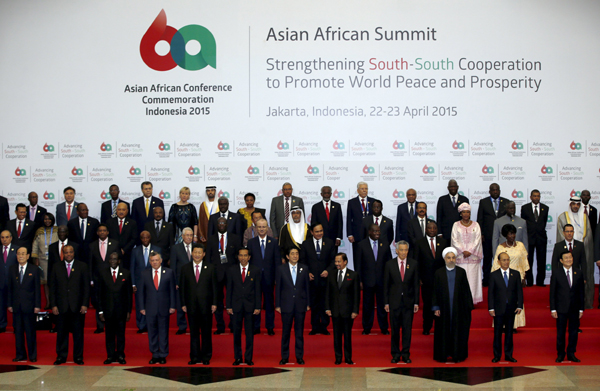 Leaders from Asia and Africa pose for a group photo before the start of the Asian-African Conference in Jakarta, April 22, 2015. [Photo/Agencies]
JAKARTA - An Asian-African leaders' meeting opened here Wednesday with the aim of carrying on the Bandung Spirit and promoting common development of the two vibrant continents.
Chinese President Xi Jinping joined leaders and representatives from about 100 countries and international organizations at the Asian-African Summit 2015, where he is to deliver a speech and lay out Beijing's initiatives.
Later during his Indonesia tour, Xi will travel to the heritage city of Bandung, West Java, to attend events to mark the 60th anniversary of the historic Bandung Conference, the first large-scale gathering of Asian-African countries.
In 1955, representatives from 29 Asian and African countries and regions gathered in Bandung to discuss independence, peace and economic prosperity.
The Bandung Conference opened a new chapter in the developing countries' struggle for national independence, economic development, social progress and a more balanced international order.
Schedule
Chinese President Xi Jinping will visit Pakistan and attend the Asian-African Summit and activities commemorating the 60th anniversary of the Bandung Conference in Indonesia from April 20 to 24.

April 22
Attend the opening ceremony of the Asian-African Summit;
Meeting with Indonesian President Joko Widodo;

April 23
Bilateral meetings;
Attend the closing ceremony of the Asian-African Summit;

April 24
Historical walk from Savoy Homann Hotel to Gedung Merdeka;
Attend activities commemorating the 60th anniversary of the Bandung Conference;