Bandung, host city of Asia-African Conference in 1955
Updated: 2015-04-24 10:37
(Xinhua)
Comments
Print
Mail
Large
Medium
Small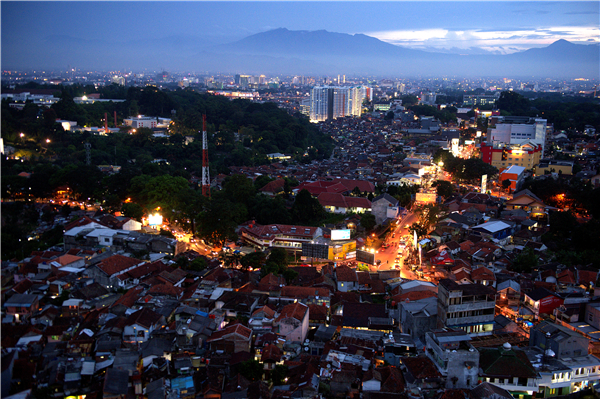 Photo taken on April 23, 2015 shows the night scenery of Bandung, Indonesia. Newly-independent and non-aligned nations first gathered to assert principles of international economic and political engagement in the Bandung Conference in 1955. April 24 this year marked the 60th anniversary of the 1955 Bandung Conference. [Photo/Xinhua]
BANDUNG, Indonesia - Bandung is the capital of Indonesia's West Java province.
Located 180 km southeast of the national capital of Jakarta, Bandung has cooler temperatures than most of other Indonesian cities due to its altitude of 768 meters.
It has a tropical highland rainforest monsoon climate, classified as humid and the average temperature is 23.6 degrees Celsius throughout the year.
The average annual rainfall ranges from 1,000 mm in the central and southeast regions to 3,500 mm in the north of the city.
Schedule
Chinese President Xi Jinping will visit Pakistan and attend the Asian-African Summit and activities commemorating the 60th anniversary of the Bandung Conference in Indonesia from April 20 to 24.

April 22
Attend the opening ceremony of the Asian-African Summit;
Meeting with Indonesian President Joko Widodo;

April 23
Bilateral meetings;
Attend the closing ceremony of the Asian-African Summit;

April 24
Historical walk from Savoy Homann Hotel to Gedung Merdeka;
Attend activities commemorating the 60th anniversary of the Bandung Conference;