Memorial park guardian: Keeper of China-Pakistan friendship
Updated: 2015-04-19 20:51
(Xinhua/chinadaily.com.cn)
Comments
Print
Mail
Large
Medium
Small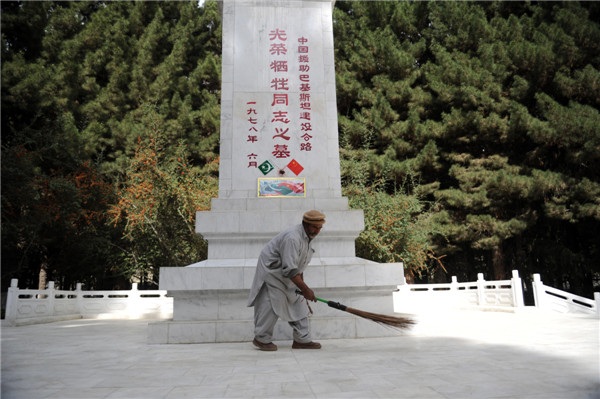 Ali Ahmad Jan, a Pakistani who has been guarding the Chinese memorial park for 37 years, cleans the park in the northern city of Gilgit, March 25, 2015. [Photo/Xinhua]
ISLAMABAD - "My life is all about safeguarding the memorial park," said Ali Ahmad Jan, a Pakistani who has been guarding the Chinese memorial park in the northern city of Gilgit for 37 years since 1978.
The Karakoram Highway, a 800 km-plus road built with fund from China during 1966-1978, is the only overland connection between China and Pakistan at present and the only economic lifeline for Pakistan's northern region.
Hundreds of Chinese engineers died while building the road, among which 88 Chinese employees died in Pakistan during the 12 years of construction of the road, which is hailed as road of China-Pakistan friendship.
"I witnessed the efforts the Chinese employees took and the hardship they bore. I was deeply touched and greatly motivated," Ali Ahmad said. "That's why when the park in memory of those people was completed in 1978, I decided to work for it."
At the age of 22, he applied to the local government to work as a volunteer to safeguard the park and was hired.
Ali Ahmad is in charge of everything in the memorial park. Most of the 717 trees in the park was planted by him. Besides working as a gardener, he also cleans and keeps the park. He sweeps the park three to four times a day because he insisted on keeping the resting place of the Chinese heroes clean and tidy.
Day after day, year after year, Ali Ahmad has worked in the memorial park for 37 years, even though he only got little allowance from the government and lived a hard life.
"Although I've been through some hardships, I never thought about quitting this job," said Ali Ahmad, who has not seen his allowance increased until recent years.
For his great contribution to the China-Pakistan friendship, Ali Ahmad was invited to visit China twice from 1997 to 2000. "The Chinese people are very nice to me. They regard me as their family," Ali Ahmad said of his impression of China.
Schedule
Chinese President Xi Jinping will visit Pakistan and attend the Asian-African Summit and activities commemorating the 60th anniversary of the Bandung Conference in Indonesia from April 20 to 24.

April 22
Attend the opening ceremony of the Asian-African Summit;
Meeting with Indonesian President Joko Widodo;

April 23
Bilateral meetings;
Attend the closing ceremony of the Asian-African Summit;

April 24
Historical walk from Savoy Homann Hotel to Gedung Merdeka;
Attend activities commemorating the 60th anniversary of the Bandung Conference;