New momentum for ties with Pakistan
Updated: 2015-04-17 07:50
By Xu Changwen (China Daily)
Comments
Print
Mail
Large
Medium
Small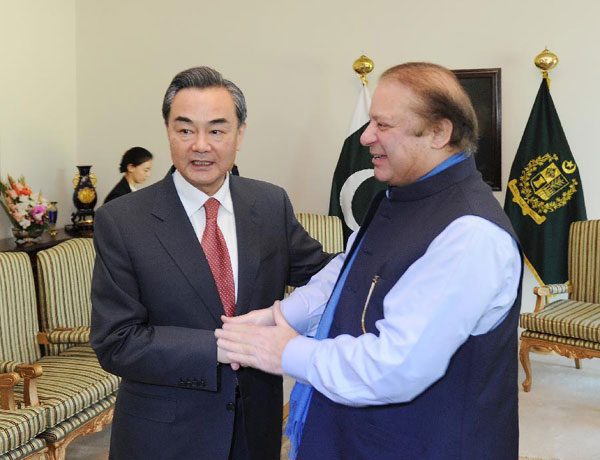 Pakistani Prime Minister Nawaz Sharif (R) shakes hands with visiting Chinese Foreign Minister Wang Yi in Islamabad, Pakistan, on Feb 13, 2015. Pakistan and China vowed to expedite work on the China-Pakistan Economic Corridor during a meeting between Pakistani Prime Minister Nawaz Sharif and visiting Chinese Foreign Minister Wang Yi. [Photo/Xinhua]
Pakistan, an all-weather friend and important trade partner of China, has had an impressive economic growth rate in recent years (it was 4.1 percent in 2014). With per capita GDP of more than $1,300 and a population of nearly 200 million (the sixth-largest in the world), the South Asian country is witnessing an increase in its middle class population at a fast pace.
Of all Pakistan's bilateral trade partnerships, the one with China is perhaps the only one that meets all the criteria of cross-border cooperation. The China-Pakistan Free Trade Agreement, which was signed in 2006 and implemented the next year, was the first FTA that Islamabad signed. And the FTA service trade agreement signed in 2009 is still the most open and comprehensive of its kind for both countries.
The first stage of implementation of the China-Pakistan FTA, which covers commodity and service trade and investment, granted 85 percent of the commodities in bilateral trade mutual preferential duty within five years. The second-stage agreement reached earlier this month increased such commodities to 90 percent.
The China-Pakistan economic cooperation has deepened gradually. From just over $5.2 billion in 2006, the bilateral trade volume reached about $16 billion last year. Also, Pakistan's growing exports to China - from just $1 billion in 2006 to more than $3.1 billion in 2012 - has made the latter its second-largest trade partner, with the United Arab Emirates being the largest. In return, China's trade surplus with Pakistan has more than doubled (from about $3.2 billion in 2006 to $10.4 billion in 2014) in the first stage of the FTA.
To sustain the bilateral trade growth and make both economies more complementary, the two countries have sought to diversify and optimize their cooperation in direct investment and commodity exchange. For instance, China-led projects and labor contracts in Pakistan were worth more than $25.5 billion by 2013, with direct investments by Chinese enterprises in Pakistan reaching about $3 billion last year. These investments, many of which are aimed at increasing power supply in Pakistan by generating more wind and nuclear power, have played a significant role in keeping the country's economy stable.
On the commodity front, Pakistan's main exports to China are textiles, minerals, base metals, leather and leather goods, and plant and animal products; they account for 93 percent of its total exports to China. The double and fourfold increase in exports of leather and leather goods, and plant and animal products, suggests economic recovery has made Pakistan capable of exporting more goods.
But Islamabad has not been able to fully cash in on the China-Pakistan FTA because of regional unrest caused by terrorist attacks and criminal cases, as well as the slow improvement in the infrastructure in parts of the country.
In a move that highlighted Pakistan's diplomatic and economic significance and for the benefit of both countries, China has offered to strengthen the FTA. The Silk Road Economic Belt and 21st Century Maritime Silk Road initiatives, proposed by President Xi Jinping since 2013, and the more than 3,000-kilometer-long China-Pakistan economic corridor proposed by Premier Li Keqiang during his visit to Pakistan two years ago will help boost the country's economy.
In particular, the economic corridor, which involves an investment of about $46 billion, will improve Pakistan's domestic transport network and energy output, as well as significantly shorten the pipeline-based distance between its Gwadar Port and China's Xinjiang Uygur autonomous region. China's petrol imports, nearly 60 percent of which are still transported through the Arabian Sea and the Strait of Malacca, would cost much less should the corridor become operational.
As founding members of the Beijing-proposed Asian Infrastructure Investment Bank and with their bilateral trade volume expected to reach $20 billion this year, China and Pakistan are headed toward a period of greater mutual benefit.
The author is a researcher at the Chinese Academy of International Trade and Economic Cooperation, affiliated to the Ministry of Commerce.
Schedule
Chinese President Xi Jinping will visit Pakistan and attend the Asian-African Summit and activities commemorating the 60th anniversary of the Bandung Conference in Indonesia from April 20 to 24.

April 22
Attend the opening ceremony of the Asian-African Summit;
Meeting with Indonesian President Joko Widodo;

April 23
Bilateral meetings;
Attend the closing ceremony of the Asian-African Summit;

April 24
Historical walk from Savoy Homann Hotel to Gedung Merdeka;
Attend activities commemorating the 60th anniversary of the Bandung Conference;