China and Zhou Enlai lay basis for the future at Bandung Conference
Updated: 2015-04-22 16:47
(chinadaily.com.cn)
Comments
Print
Mail
Large
Medium
Small
What is the Bandung Conference?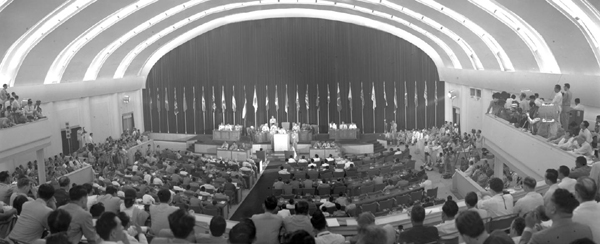 The hall of Gedung Merdeka where the Bandung Conference took place. [Photo/Xinhua]
The Asian-African Conference, also known as the Bandung Conference, was held in Bandung, Indonesia from April 18 to 24, 1955.
Representatives from 29 Asian and African countries and regions, most of which were newly independent, gathered to discuss independence, peace and economic prosperity.
The conference was jointly proposed by Indonesia, Burma (now Myanmar), Ceylon (now Sri Lanka), India and Pakistan.
China played a prominent part in the conference and strengthened friendly relations with other nations.
Representatives discussed issues such as national sovereignty, racism, nationalism and struggles against colonialism, world peace and economic and cultural cooperation among the participating countries.
The Bandung Conference, an important step toward the Non-Aligned Movement, opened a new chapter in the developing countries' struggle for national independence, economic development, social progress and a more balanced international order.
A final communiqué was released and a 10-point "declaration on promotion of world peace and cooperation," incorporating the principles of the United Nations Charter was adopted unanimously:
1. Respect for fundamental human rights and for the purposes and principles of the charter of the United Nations
2. Respect for the sovereignty and territorial integrity of all nations
3. Recognition of the equality of all races and of the equality of all nations large and small
4. Abstention from intervention or interference in the internal affairs of another country
5. Respect for the right of each nation to defend itself, singly or collectively, in conformity with the charter of the United Nations
6. Abstention from the use of arrangements of collective defense to serve any particular interests of the big powers; Abstention by any country from exerting pressures on other countries
7. Refraining from acts or threats of aggression or the use of force against the territorial integrity or political independence of any country
8. Settlement of all international disputes by peaceful means, such as negotiation, conciliation, arbitration or judicial settlement as well as other peaceful means of the parties own choice, in conformity with the charter of the United Nations
9. Promotion of mutual interests and cooperation
10. Respect for justice and international obligations.
The much-acclaimed Ten Principles of Bandung underscored respect for fundamental human rights, respect for sovereignty and territorial integrity, equality of all nations large and small, as well as non-intervention and non-interference in the internal affairs of another country.
Schedule
Chinese President Xi Jinping will visit Pakistan and attend the Asian-African Summit and activities commemorating the 60th anniversary of the Bandung Conference in Indonesia from April 20 to 24.

April 22
Attend the opening ceremony of the Asian-African Summit;
Meeting with Indonesian President Joko Widodo;

April 23
Bilateral meetings;
Attend the closing ceremony of the Asian-African Summit;

April 24
Historical walk from Savoy Homann Hotel to Gedung Merdeka;
Attend activities commemorating the 60th anniversary of the Bandung Conference;