Backgrounder: China-Pakistan Economic Corridor
Updated: 2015-04-22 09:31
(chinadaily.com.cn)
Comments
Print
Mail
Large
Medium
Small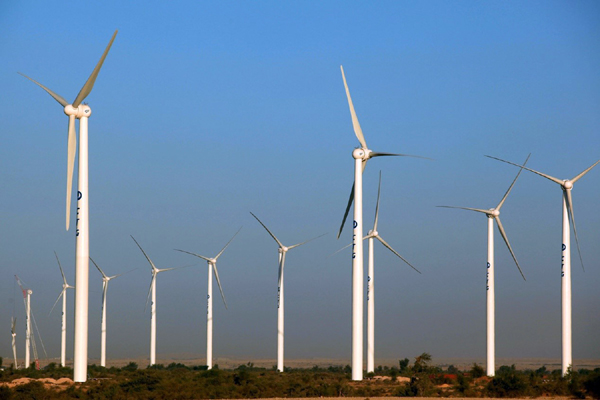 The first wind-power generation project established by Chinese companies in Karachi, Pakistan, is among the 21 agreements on energy that China and Pakistan cooperated. Photo taken in December 2014. [Photo/Xinhua]
The China-Pakistan Economic Corridor (CPEC) is a 3,000-kilometer network of roads, railways and pipelines to transport oil and gas from southern Pakistan's Gwadar Port to Kashgar city, northwestern China's Xinjiang Uygur autonomous region.
Proposed by Premier Li Keqiang during his visit to Pakistan in May 2013, the CPEC will act as a bridge for the new Maritime Silk Route that envisages linking 3 billion people in Asia, Africa and Europe.
A flagship project of the Belt and Road initiative as well, the CPEC intends to revive the ancient Silk Road with a focus on infrastructure, and constitutes the strategic framework of bilateral cooperation.
The project links China's strategy to develop its western region with Pakistan's focus on boosting its economy, including the infrastructure construction of Gwadar Port, together with some energy cooperation and investment programs. It also involves road and railway construction including an upgrade of the 1,300-km Karakoram Highway, the highest paved international road in the world which connects China and Pakistan across the Karakoram Mountains.
The CPEC will reduce China's routes of oil and gas imports from Africa and the Middle East by thousands of kilometers, making Gwadar a potentially vital link in China's supply chain.
Gwadar Port, which is about 400 km from the Strait of Hormuz, will be upgraded and a 14 km expressway and an airport will be built in the area.
Pakistani Prime Minister Nawaz Sharif said the corridor would transform Pakistan into a regional hub and give China a shorter and cheaper route for trade with much of Asia, the Middle East and Africa.
During President Xi Jinping's visit to Pakistan, China and the host country agreed to form a '1+4' cooperation structure with the CPEC at the center and Gwadar Port, energy, transport infrastructure and industrial cooperation being the four key areas to achieve common development.
More than 30 agreements among the 51 agreements and memorandums of understanding worth $46 billion are designed to boost the CPEC project. Early results of the planned corridor have seen 25 projects scheduled to be completed in the next three to five years.
Under 21 agreements on energy, the countries will cooperate on gas, coal and solar energy projects to provide 16,400 megawatts of electricity - roughly equivalent to Pakistan's current capacity.
The layout of the economic corridor has taken various regions' interests into consideration and will benefit a wide-ranging public, said Xi.
Schedule
Chinese President Xi Jinping will visit Pakistan and attend the Asian-African Summit and activities commemorating the 60th anniversary of the Bandung Conference in Indonesia from April 20 to 24.

April 22
Attend the opening ceremony of the Asian-African Summit;
Meeting with Indonesian President Joko Widodo;

April 23
Bilateral meetings;
Attend the closing ceremony of the Asian-African Summit;

April 24
Historical walk from Savoy Homann Hotel to Gedung Merdeka;
Attend activities commemorating the 60th anniversary of the Bandung Conference;