Historic walk jazzing up refreshed Bandung Spirit
Updated: 2015-04-24 15:59
(Xinhua)
Comments
Print
Mail
Large
Medium
Small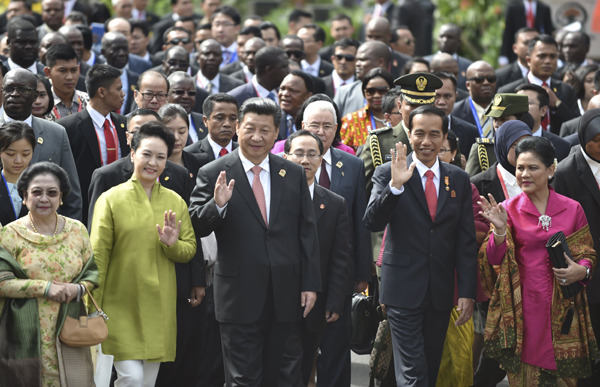 (From left to right) Former Indonesian President Megawati Sukarnoputri, Chinese President Xi Jinping and his wife, Peng Liyuan, Indonesian President Joko Widodo and his wife, Iriana, take part in a historical walk with leaders from Asia and Africa as part of the commemoration of the 60th anniversary of the 1955 Asian-African conference in Bandung, West Java April 24, 2015. [Photo/Agencies]
BANDUNG, Indonesia - A historic scene of a mere 50-meter-long street walk conjured up memories 60 years ago of the sprawling Indonesian city of Bandung, nicknamed Paris of Java, on Friday morning.
The route is usually swallowing with motorcycles and Japanese used cars between Savoy Homann, a 19-century grandiose hotel, and the raw white three-story Merdeka Building, or the Independence Building.
Fine art deco buildings, street stalls, becaks or Indonesian cycle rickshaws, and multiplexes have been jostling for space in the city, a resort attraction during the Dutch colonial rule.
However, all throngs of congestion were gone on Friday, as school children stood along the sidewalk, smiling and waving tiny national flags.
A high troupe of Asian and African leaders sauntered on the road, commemorating the 60th anniversary of the Asian-African Conference, also known as the Bandung Conference.
The same trail was launched in 1955 from the residence to the then venue of the historic conference.
Distinguished names included in the 1955 event list were then Indonesian president Sukarno, former Chinese premier Zhou Enlai and ex-Indian prime minister Javaharlal Nehru.
Friday's walk, part of the 60th anniversary of the first Bandung Conference, is aimed at enshrining the Bandung Spirit which highlights the South-South cooperation.
The Bandung Spirit, with core principles of solidarity, friendship and cooperation, once served to guide the "decolonial" struggle by newly independent countries and cultivated the Non- Aligned Movement thereafter.
"We hope the spirit of the former leaders will be inherited by the present leaders," said Cypri Purba, an Indonesian political analyst.
Schedule
Chinese President Xi Jinping will visit Pakistan and attend the Asian-African Summit and activities commemorating the 60th anniversary of the Bandung Conference in Indonesia from April 20 to 24.

April 22
Attend the opening ceremony of the Asian-African Summit;
Meeting with Indonesian President Joko Widodo;

April 23
Bilateral meetings;
Attend the closing ceremony of the Asian-African Summit;

April 24
Historical walk from Savoy Homann Hotel to Gedung Merdeka;
Attend activities commemorating the 60th anniversary of the Bandung Conference;