Envoy sees many benefits from Xi's Pakistan visit
Updated: 2015-04-19 20:45
By ZHANG YUNBI (chinadaily.com.cn)
Comments
Print
Mail
Large
Medium
Small
Agreements expected on energy, infrastructure development, education, culture, information and people-to-people contacts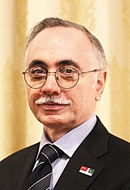 Masood Khalid
Cooperation on energy, infrastructure and cultural exchanges will result from President Xi Jinping's state visit to Pakistan on Monday and Tuesday, according to Masood Khalid, Pakistan's ambassador to China.
"Our Chinese friends describe Pakistan as their second home, and we are glad that Pakistan is the first country that President Xi will be visiting after Chinese New Year," Khalid said in an interview with China Daily.
China is Pakistan's second-largest trading partner and Pakistan has become China's largest investment destination in South Asia.
Khalid said Xi has put forward his vision for regional connectivity, economic integration and comprehensive security.
Pakistani Prime Minister Nawaz Sharif has also put forward his concept for Pakistan's economic revival and national development through peaceful relations with neighbors.
On the outcome of the visit, Khalid said the two countries "intend to finalize a number of agreements on energy, infrastructure development, education, culture, information and people-to-people contacts.
"These agreements will cement our bilateral cooperation and provide a steppingstone for further deepening this cooperation," he said.
Khalid said Xi's visit "will optimize China's role, both in a bilateral sense as a trusted friend of Pakistan as well as in a regional sense as a partner in peace and development."
The ambassador has endorsed the release last month of the State Council's official planning and outlook for building the Silk Road Economic Belt and 21st Century Maritime Silk Road, the trans-Eurasian initiatives proposed by Xi.
"I think the 'Belt and Road' initiative can usher in unparalleled economic and social dividends for Asia and beyond. By releasing its planning and outlook last month, the State Council of China has converted this vision into a policy instrument," he said.
Schedule
Chinese President Xi Jinping will visit Pakistan and attend the Asian-African Summit and activities commemorating the 60th anniversary of the Bandung Conference in Indonesia from April 20 to 24.

April 22
Attend the opening ceremony of the Asian-African Summit;
Meeting with Indonesian President Joko Widodo;

April 23
Bilateral meetings;
Attend the closing ceremony of the Asian-African Summit;

April 24
Historical walk from Savoy Homann Hotel to Gedung Merdeka;
Attend activities commemorating the 60th anniversary of the Bandung Conference;