Xi looks to bolster ties in South Asia
Updated: 2015-04-22 04:21
By WU JIAO in Islamabad and ZHAO SHENGNAN and WANG XU in Beijing (China Daily)
Comments
Print
Mail
Large
Medium
Small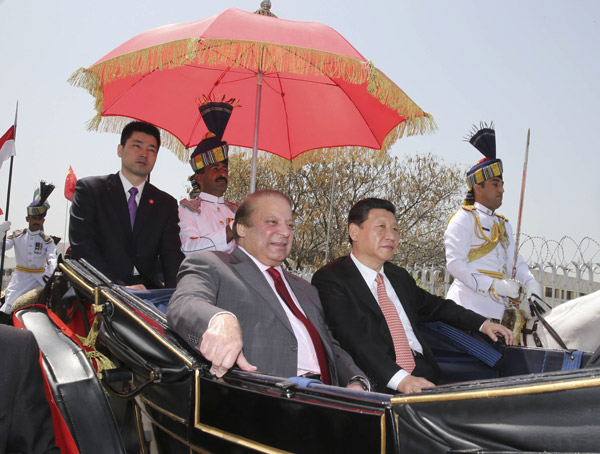 President Xi Jinping is accompanied by Pakistani Prime Minister Nawaz Sharif to a meeting with his Pakistani counterpart Mamnoon Hussain in Islamabad on Tuesday. [Photo by LAN HONGGUANG / XINHUA]
President offers further cooperation with subcontinent
President Xi Jinping extended the prospects of further cooperation to the entire subcontinent on Tuesday, a day after China and Pakistan cemented their close partnership with landmark agreements.
China is the largest neighbor of South Asian countries, and a peaceful and stable South Asia is in China's interests, Xi said while addressing a joint sitting of the Pakistani Parliament.
South Asia is a key point for China's Silk Road Economic Belt and 21st Century Maritime Silk Road initiatives, Xi said.
The China-Pakistan economic corridor and another such corridor running through China, Bangladesh, Myanmar and India are closely related to these initiatives, he said.
China sees South Asia as a key area for its western regions to open up to, the president said, adding that the two corridors will boost growth and regional cooperation.
Lawmakers gave Xi a standing ovation after his address, which was shown live on state-run Pakistani TV, and they applauded or thumped the tables in approval many times during his 40-minute speech.
The address, the first delivered by a Chinese president to a joint sitting of Parliament in Islamabad, came after the two countries sealed 51 agreements worth $46 billion on Monday as part of efforts to revitalize the Pakistani economy.
The agreements have been hailed in Pakistan as a "watershed" in the joint relationship, but have been interpreted by some sections of the media as an attempt by China to extend its influence in South Asia and to counter India's traditional power in the region.
On Tuesday, the website of Pakistani newspaper Dawn reported that ties with India have not been able to overcome problems and that relations with the United States have been relatively lukewarm.
Du Youkang, head of Fudan University's Center for South Asia Studies, said India and Pakistan are both important neighbors of China, and "China has no intention to use Pakistan as leverage over India".
"The stability of South Asia will benefit the prosperity of all countries, including China. If the environment is peaceful, we will have more opportunities to go global, more chances to cooperate, and the Silk Road initiatives will develop more smoothly," Du said.
Zhou Gang, a former Chinese ambassador to Pakistan and India, said China values its relationships with the two countries and hopes they can improve these ties by holding talks so that all three nations can interact and cooperate constructively.
Pakistani Prime Minister Nawaz Sharif said after Xi's speech that he appreciates China's solidarity with Pakistan in "our quest for peace and stability in South Asia".
The corridor between the two countries symbolizes their commitment to create win-win partnerships that "threaten none and benefit all", he said.
Xi's speech, which also reaffirmed the China-Pakistan partnership, was welcomed enthusiastically by legislators, military leaders and diplomats who attended Parliament, with Sharif describing him as "not just a friend from afar, but one who is so close to our heart".
After leaving Parliament in a horse-drawn carriage, Xi was conferred Pakistan's top civil award, the Nishan-e-Pakistan, and held a meeting with Pakistani President Mamnoon Hussain.
On Tuesday night, Xi arrived in Indonesia to attend the Asian-African Summit and activities marking the 60th anniversary of the Bandung Conference.
He will return to Beijing on Friday.
Contact the writers through wujiao@chinadaily.com.cn
Schedule
Chinese President Xi Jinping will visit Pakistan and attend the Asian-African Summit and activities commemorating the 60th anniversary of the Bandung Conference in Indonesia from April 20 to 24.

April 22
Attend the opening ceremony of the Asian-African Summit;
Meeting with Indonesian President Joko Widodo;

April 23
Bilateral meetings;
Attend the closing ceremony of the Asian-African Summit;

April 24
Historical walk from Savoy Homann Hotel to Gedung Merdeka;
Attend activities commemorating the 60th anniversary of the Bandung Conference;