China-Pakistan will always move forward together: President Xi
Updated: 2015-04-21 13:55
(Xinhua)
Comments
Print
Mail
Large
Medium
Small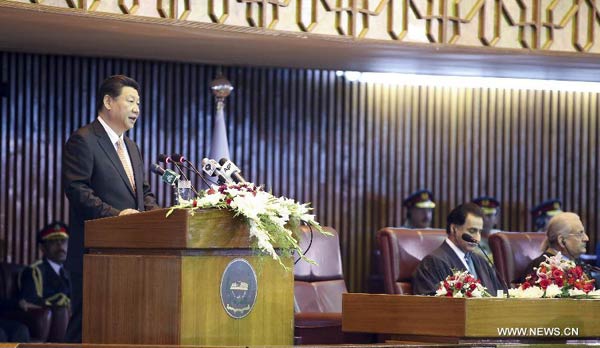 Visiting Chinese President Xi Jinping delivers a speech at the Pakistan's parliament in Islamabad, Pakistan, April 21, 2015. [Photo/Xinhua]
ISLAMABAD - China and Pakistan will always stand together and move forward together, Chinese President Xi Jinping said here Tuesday.
Addressing a joint sitting of Pakistan's parliament, Xi described Pakistan as China's "dependable" friend, stressing that bilateral ties are based on mutual trust and support.
"As soon as I set foot on this beautiful soil, my colleagues and I were immediately immersed in the ocean of warmth and friendship. I felt like returning to the home of my own brother," the president said.
Xi arrived in Islamabad on Monday for his first state visit to Pakistan. The two countries have agreed to elevate their ties to an all-weather strategic cooperative partnership.
"The Chinese people will always stand together with the Pakistani people," Xi told Pakistani lawmakers.
The two countries should support each other on their core interests and be "the most reliable partners," Xi said, noting that China firmly backs Pakistan's efforts to safeguard its sovereignty, independence and territorial integrity.
"So long as our hearts always follow the direction of what our two peoples expect and our strength is always exerted toward such a direction, we can surely overcome any difficulties and obstacles on the way ahead," Xi said.
Praising Pakistan's anti-terror efforts, Xi said that Pakistan has always stood at the frontlines in the war on terrorism, and has made great sacrifices for and outstanding contributions to the peace and stability in the region and the world at large.
Meanwhile, Xi said China supports Pakistan's constructive role on the Afghanistan issue.
Speaking of the relationship between China and South Asia, Xi said that China is the largest neighbor of South Asian countries, and that a peaceful, stable and prosperous South Asia conforms to China's interests.
"China is willing to align its development strategies with those of South Asian countries to achieve mutually beneficial development and common prosperity," he said.
China stands ready to be a sincere partner of South Asian countries and enhance cooperation with them, said the president.
"The Chinese side is willing to, within the framework of South-South cooperation, offer assistance and support to South Asian countries within its own capacity," he said.
Prior to his address, Xi attended the inauguration ceremony for a project named Green Parliament and designed to provide the Pakistani parliament house with solar energy.
Later Tuesday, Xi left for Indonesia to attend an Asian-African summit and activities to commemorate the 60th anniversary of the Bandung Conference.
Schedule
Chinese President Xi Jinping will visit Pakistan and attend the Asian-African Summit and activities commemorating the 60th anniversary of the Bandung Conference in Indonesia from April 20 to 24.

April 22
Attend the opening ceremony of the Asian-African Summit;
Meeting with Indonesian President Joko Widodo;

April 23
Bilateral meetings;
Attend the closing ceremony of the Asian-African Summit;

April 24
Historical walk from Savoy Homann Hotel to Gedung Merdeka;
Attend activities commemorating the 60th anniversary of the Bandung Conference;