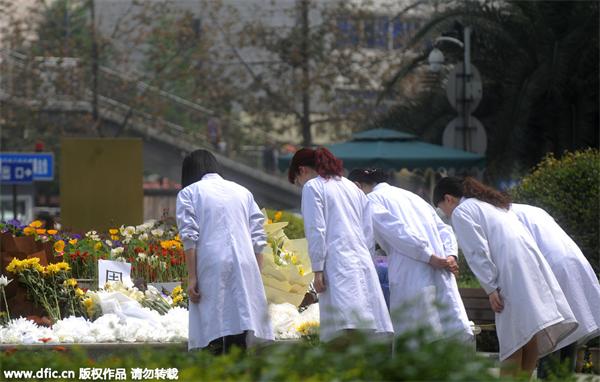 On March 31, 51-year-old doctor Zhou Xiaohui in Chengdu of Sichuan ended his life, after he and his colleagues were harassed by the family of a seriously ailing patient. [Photo/IC]
Several doctors in Sichuan province have complained via micro blogs that one of their colleagues, Zhou Xiaohui, committed suicide after becoming embroiled in a dispute with a patient, who was demanding high compensation and disturbing his normal life. However, the hospital where Zhou worked said it was not sure why he committed suicide. Comments:
Some doctors or patients who feel bullied in medical accidents have chosen to file lawsuits, but their cases are often rejected because there is no specific law concerning the medical profession. We need a specific law first and we call for the legislature to draft one so as to prevent more tragedies.
Lanzhou Daily, April 2
As the whole of society lacks mutual trust, the rising trend of medical disputes will of course continue. What is needed is trustable third-party institutions that can mediate between the patients and doctors in case of disputes. Only when conflicts are solved in a fair way can we reverse the trend.
gmw.cn, April 2
It is necessary to introduce some regulations that require doctors to write down the possible outcomes of major operations for patients, and obtain the patients' or their families' consent first. Only when the whole process is made transparent can conflicts be avoided.
xbsb.com.cn, April 2
Conflicts happen so frequently in hospitals that a new profession has emerged, namely gangsters hired by patients or their families to compel doctors to pay high compensation. This has much to do with the judiciary failing in its duty and bending justice to "maintain stability". It is time to push judicial staff to perform their legal duties, so that these troublemakers are punished.
newsschuan.org, April 1