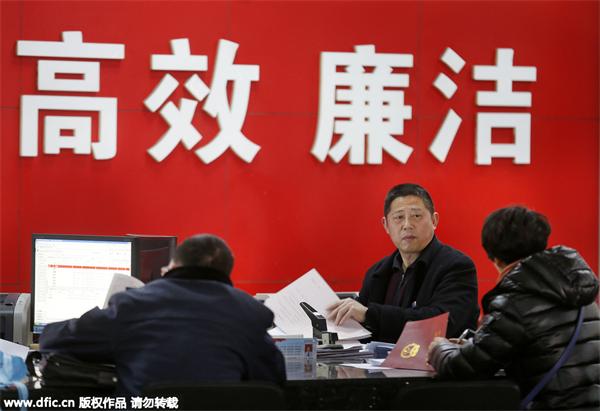 Chinese governments at all levels work hard to improve officials' efficiency. [Photo/IC]
China's unprecedented campaign against corruption is aimed at facilitating administrative reforms, which, in turn, will help implement the basic principle of the Constitution that "all power belongs to the people". The anti-corruption campaign, however, is also said to have lowered the efficiency levels of some government officials.
Some say this is the price society has to pay for China's transition from an economy based on administrative norms and approval procedures to a market-based economy. The measures to simplify the administrative procedures or to transfer them from government departments to the market, they say, have caused many benefits previously enjoyed by government officials to disappear. And the resultant grievance among government officials has made them less efficient.
Such analyses, which link the anti-corruption drive to officials' inefficiency, are absurd.
Government officials draw their powers from the Constitution and laws. In other words, officials are authorized by the people to exercise their powers according to the law on their behalf. So if some public servants shirk their duties and responsibilities just because they have "lost" some of the extra benefits because of the anti-corruption drive, higher authorities or the judiciary should punish them.
According to civil servant and related laws, government officials should act in line with the law, and they are liable to administrative or judicial punishment for compromising the rights or interests of individuals or organizations. As such, dereliction of duty or misconduct by public servants is not only a working style issue, but a legal issue as well if it causes harm to individuals or organizations.
That some public servants are not working as efficiently as they should can be partly attributed to the wrong functional positioning of some departments because of the central government's accelerated efforts to delegate part of its powers to lower-level governments and allow the market to play a more decisive role in the distribution of resources. Since some departments lack legal bases for their functions, they are sometimes unwilling to carry out their work, especially if their functions overlap with other departments. To resolve this problem, the Standing Committee of the National People's Congress, the top legislature, should enact a unified rule.