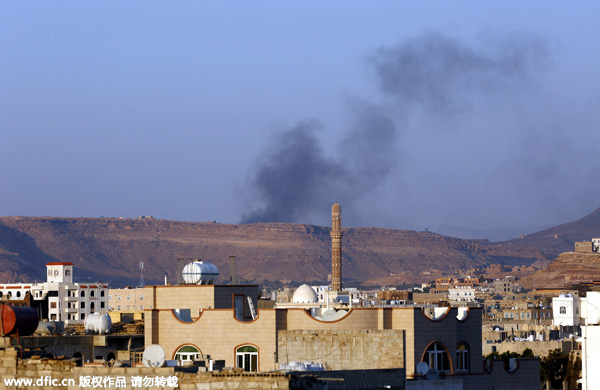 A black pall of smoke rises from an alleged weapons storage depot at a military camp of Houthi rebels after an airstrike of the Saudi-led alliance, in Sanaa, Yemen, March 30, 2015. [Photo/IC]
China has joined other countries in evacuating its nationals from Yemen as war clouds grow darker over the Middle East country. The evacuation of hundreds of Chinese nationals on March 30-31 with the help of military ships reflects the government's determination when it comes to humanitarian relief and rescue missions.
As the situation in Yemen worsens, China has temporarily pulled out of multilateral patrols in the Gulf of Aden to counter Somali pirates and, instead, directed its navy fleet to rescue stranded Chinese nationals in Yemen.
Such overseas evacuations have become routine operations as an increasing number of Chinese seek to work and travel overseas. Apart from Yemen, China has also launched massive operations to evacuate its nationals from countries such as Libya, Vietnam, Iraq and Egypt. These operations also show China has become more adept at safeguarding its interests overseas.
China launched the massive evacuation operation in Yemen because it fears the Yemen conflict could drag on. Since March 26, a Saudi Arabia-led coalition has been bombing key targets of the Shi'ite Houthi rebels, who have been fighting forces loyal to Yemeni President Abd-Rabbo Mansour Hadi who fled the country last week.
The Arab countries' military intervention is in response to an appeal by Hadi to crush the Houthi revolt in the southern region. Many see the bombings as a sectarian intervention in a conflict between the Sunni-led Arab world and the Houthi rebels who claim loyalty to Shi'ite Iran.
Experience tells us that foreign intervention in a country can be a double-edged sword: It could weaken violent militias but then it could also intensify violence leading to graver humanitarian disasters. The Saudi-led bombings in Yemen have already resulted in civilian casualties. And the fact that Sunni states have formed a joint military front to counter growing security threats suggests that they could be involved in Yemen's conflict for a long time.