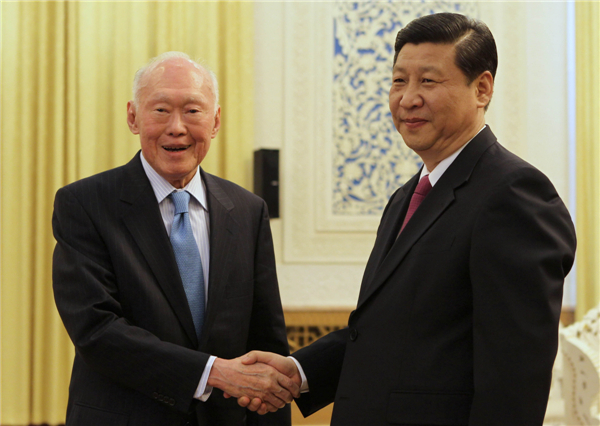 Then vice-president Xi Jinping, right, meets Singapore's former prime minister, Lee Kuan Yew, at the Great Hall of the People in Beijing, in this May 23, 2011, file photo. [Photo by Xu Jingxing/Asianewsphoto]
He might have been known for his toughness in politics; and he was said to have once invoked Niccolò Machiavelli by declaring: "If nobody is afraid of me, I'm meaningless." But he is undeniably a giant of history, and what he created in Singapore deserves respect.
He is Lee Kuan Yew, former Singaporean prime minister, who passed away at the age of 91 on Monday. He will be remembered for what he has done for his people and the world.
He set his country on a path that has seen average incomes rise 100 times, and transformed Singapore from a sleepy British colony into a global trading and financial center, with investments across the globe, a widely respected civil service and world-class infrastructure.
Among his achievements as Singapore's leader, what deserves particular attention from his ancestral home China is his combination of traditional Chinese culture and the modern concept of political philosophy in the governing of his country.
Though strong willed as he was as a state leader and decisive in his battle with political opponents, he also established a widely respected and effective civil service, which facilitated his success in bringing political stability and economic prosperity to his people.
Speaking of the future of China, he said that the country had its own way of governance. And he wrote in his book something to the effect that Chinese people had long believed that the country would not have security without a strong central government, because a weak central government meant chaos and insecurity. He said that this was a fundamental principle of the Chinese people, and was well understood. Some Westerners expected China to become a democratic country in the Western sense, but that would not happen, he said.
Singapore is not a democratic country in the Western sense either. But it functions well in the interests of its citizens.
There may be much to be desired in Singapore's civil service. But the country is an example of how Eastern culture, Chinese culture in particular, can be successfully integrated with Western culture for a prosperous nation.
Reviewing what this man has done for his own country, we should have more confidence in sticking to our own culture and philosophy. But we should also never forget that he had the vision to learn from the advanced cultures.