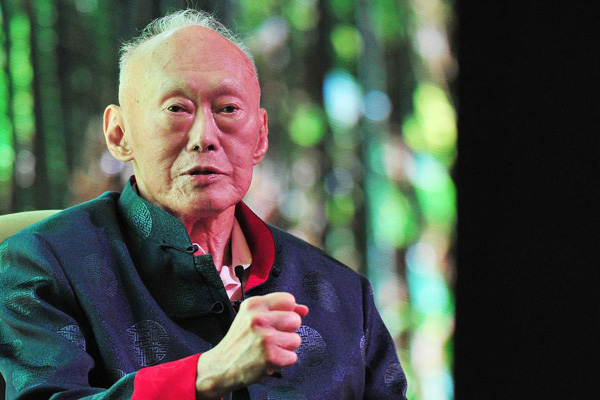 File photo of Singapore's former Prime Minister Lee Kuan Yew taken on March 20, 2013. The country's Prime Minister's Office said on Wednesday that Lee remains critically ill in the ICU and has deteriorated further. [Photo/Xinhua]
A rumor spread online on Wednesday evening that Lee Kuan Yew, the founding premier of Singapore and senior advisor to its Cabinet, had died, until proven false by the Singaporean authorities soon. Many influential media outlets helped flare up the rumor before it was quashed. Comments:
The rumor of Lee's death emerged at 21:50; it was proven false within 25 minutes. Yet within that short time countless media outlets helped spread the rumor. Obviously, they were hurrying in order not to fall behind their competitors; but why not give the Singaporean Cabinet a call and talk for 10 seconds? That would have stopped the rumor in its tracks. The rumor about Lee's death was only a minor test for media outlets; we need to prepare for bigger ones.
Xin Haiguang, a media researcher, via WeChat, March 20
Had Lee done nothing but governed Singapore for 25 years, he would not enjoy such huge influence globally. It was his successful predictions about global trends, supported by his deep insight, that gained him fame. When China was still poor, he foretold that it would rise as a main competitor to the United States. In 1978, he also talked with Chinese leader Deng Xiaoping about the potential of the Chinese people, which might have consolidated the latter's determination to push ahead with reform. He deserves the title of a political giant.
Xu Shaolin, independent commentator, March 19
To mistakenly report somebody's death is considered a curse and editors can never be too serious about it. Journalists need to promote professionalism and get rid of the reliance upon social networks.
Su Yu, co-CEO of vcyber.cn, March 20
Singapore's success proved that a country without Western ideology could also prosper and construct its own value system; even today, there is a Singaporean mode of development that is distinguishable from that of the West and the developing world. At the center of this mode lies the thinking and cultural background of Lee, its chief designer - that's why he is widely considered one of the greatest politicians of today.
Beijing News, March 18