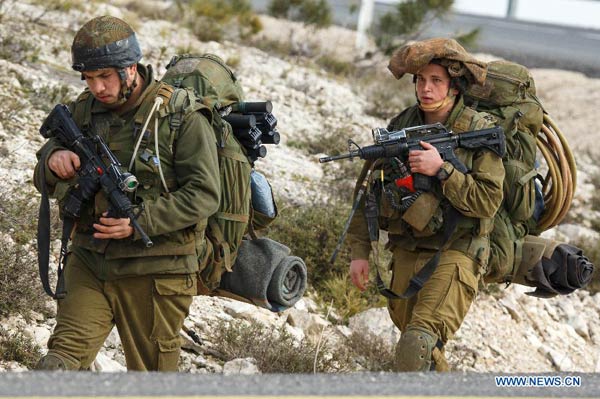 Israeli soldiers walk near the border between Israel-occupied Golan Heights and Lebanon, on Jan 19, 2015. [Photo/Xinhua]
It is too early to say whether US Secretary of State John Kerry's remark that the United States would have to negotiate with Syrian President Bashar al-Assad marks a major change in Washington's policy toward Damascus.
Kerry's remark came on Sunday, which marked four years of the Syrian conflict and saw many across the world, including United Nations agencies, calling for an "early" resolution to the most serious crisis in the Middle East. Kerry, though, added that, "we've always been willing to negotiate in the context of the Geneva I process (a 2012 conference that called for a negotiated transition to resolve the crisis)".
One day later, in an apparent attempt to dispel any misunderstanding arising from Kerry's remark, Marie Harf, US State Department's deputy spokeswoman, said there had been no change in the US policy and ruled out the possibility of direct talks with Assad.
Such explanations and clarifications only lay bare Washington's ambivalence in its policy toward Damascus. As the devastating crisis drags into a fifth year, the US now finds itself at a crossroads: maintain its hostile policy toward Assad or seek reconciliation with him to fight the Islamic State.
The rise of the IS group in the Middle East has intensified the chaos in Syria. While the Syrian government forces are combating both the IS group and the rebel forces, the US is leading an international coalition in regularly bombing the strongholds of the IS in Iraq and Syria.
Whether the US likes it or not, the Assad government constitutes an important force that cannot be ignored in the fight against the IS. The only logical choice for Washington, therefore, is to deal directly with the Assad government to either eliminate the IS group or end the civil war in Syria.