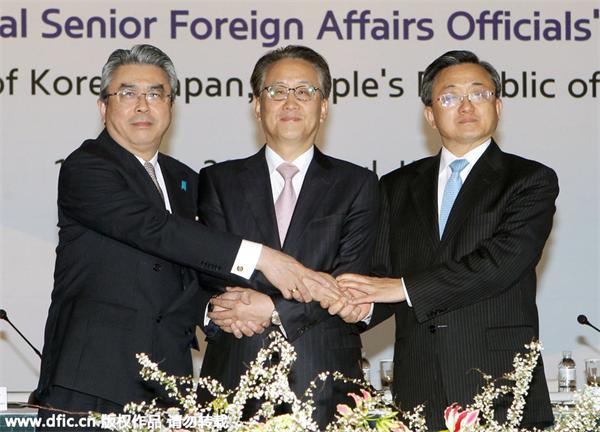 (From L) Japanese Deputy Foreign Minister Shinsuke Sugiyama, South Korean Deputy Foreign Minister for Political Affairs Lee Kyung Soo and Chinese Vice Foreign Minister Liu Zhenmin shake hands ahead of their talks in Seoul on March 11, 2015. [Photo/IC]
The seventh meeting of the foreign ministers of China, Japan and the Republic of Korea, to be held in Seoul on March 21 after a hiatus of almost three years, is of great significance, because this year marks the 70th anniversary of the victory in the war against fascism and the triumph of the Chinese people in the War of Resistance Against Japanese Aggression (1937-45).
Like the trilateral meeting, Japan's neighborhood diplomacy too has hit a dead end in recent years owing to Tokyo's reluctance to face up to its war crimes. Ignoring the brutal nature of Japan's invasion of Asian countries before and during World War II, Japanese Prime Minister Shinzo Abe has been trying to whitewash Tokyo's war crimes instead of apologizing for them.
But the fact is, no matter how hard Japan tries to reinterpret and beautify its wartime history, neither the victim countries such as China and the ROK nor its close allies such as the United States seem pleased. This is because Japanese officials' visits to the Yasukuni Shrine that honors 14 Class-A war criminals and denial of "comfort women", forced into sexual slavery by the Imperial Japanese Army, are only making matters worse for Japan's credibility as a responsible country.
Japan could have been recognized as a responsible country had it followed Germany, its fascist ally during WWII, in apologizing for its war crimes. As German Chancellor Angela Merkel said during her visit to Japan last week, her country was re-accepted by Europe and then the international community, because it "did face its past squarely". She urged Japanese politicians to do the same by taking the lead to correct current wrong historical perception.
Merkel was right about the European reconciliation, for later it helped establish the European Union. None of these would have happened without Germany's sincere apology to all the victims of Nazism and, more importantly, its determination to break with its fascist past. For instance, any dangerous tendency to disown Nazi invasions of other countries or revive fascism is deemed as violation of Germany's criminal law.