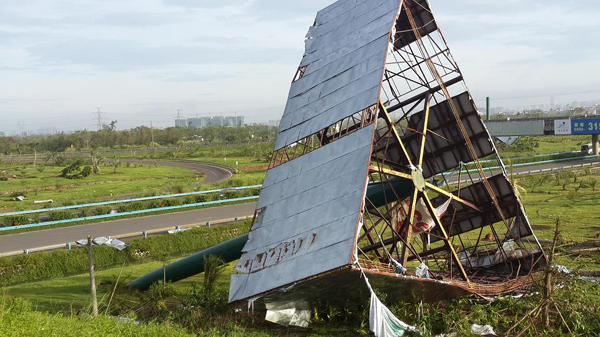 An advertisement board falls after landfall of the typhoon Rammasun in Haikou, capital of South China's Hainan povince, July 20, 2014. [Photo/Xinhua]
A Chinese saying goes, "Provide timely help such as coal in cold winter." So how about winter quilts and moldy bread after a hurricane during a tropical summer?
No wonder the Red Cross has invited wide criticism after it sent 3,000 winter quilts to some hurricane-stricken areas after Typhoon Rammasun, the strongest typhoon to hit southern China in four decades, wreaked havoc in the provinces of Hainan, Guangdong and Guangxi Zhuang autonomous region, leaving tens of thousands of residents desperate for aid.
Quickly responding to the criticism of misappropriating resources, the charity organization insisted that winter quilts were a necessity in most cases of disaster relief because they are multi-functional, and the elderly and children need quilts to keep warm.
However, such an explanation was hardly convincing. Winter quilts may be a necessity in most cases, but probably not in the tropical Hainan province in mid-July even after a hurricane. The lowest temperature in Hainan still remains above 25 C. Local residents in the Rammasun-hit areas told Xinhua journalists that what they needed most included necessities as water, electricity, food, medicine, sleeping mats, and sheets rather than winter quilts.
The Red Cross' decision to release 3,000 winter quilts, if there is no secrete trade, exposes its unprofessionalism in areas such as as poor planning and inefficient communication.
In fact, this is not the first time the Red Cross has thrown itself into the spotlight. Three years ago, a girl named Guo Meimei sent a deadly blow to the charity society's credibility by claiming herself the general manager of the Red Cross in China and flaunting money and luxury goods online.