Editor's Note: A forum regular, claudeckenni, has traveled to 12 provinces and more than 20 cities in China. To help others enjoy the Middle Kingdon's most amazing places, he picked his favorite spots and shared handy travel tips for each one. Comments are welcome.
1. DUNHUANG
Located at the crossroads of the ancient Silk Road, Dunhuang was one of the most important cities in ancient China. Today, it is a small beautiful town in the Gobi Desert with a population of less than 200,000 people. With its rich history dating back over a thousand years, Dunhuang is a great place to visit for those who wish to experience life in the desert.
Places to visit in Dunhuang:
Mogao Grottoes
The biggest and most important grottoes in China, filled with exquisite Buddhist artifacts and manuscripts. In order to protect the artifacts, the number of visitors is limited and advanced booking is required.
Yueyaquan National Park
A great place for those who wish to experience the desert. Go early in the morning and ride a camel to see the sunrise. Climb to the top of sand dunes and slide down using a "giant wheel". The oasis itself is not too impressive up close, but very beautiful from afar.
Yadan Landforms / Devil City
Beautiful landforms resembling an ancient city in the middle of the desert.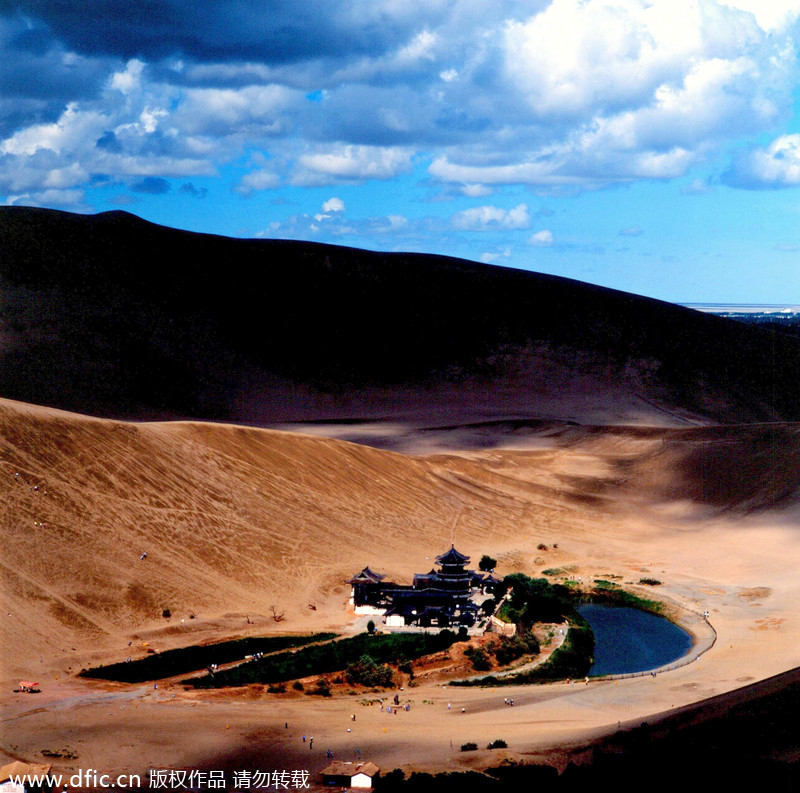 Note:
Do: Watch performances by local residents. Ask your hotel/guide. Some of them are good, some of them are bad. I watched one about the Goddess of Dunhuang and I liked it. It's depends on your own preference.
Eat:
Lamb meat skewers. They are delicious.
People in Dunhuang seem nicer than in other places in China. The prices for fruit etc are more expensive than any other cities though, because they need to import them from the South. Well, we're in the middle of the desert anyway.
Original piece: http://blog.chinadaily.com.cn/blog-1353795-20283.html
[ChinaDaily online forum offers people from all over the world and all walks of life the opportunity to share their thoughts and feelings. Join us now! BBS:bbs.chinadaily.com.cnBlog:blog.chinadaily.com.cn]