3. GUILIN
Guilin is a beautiful city that is often portrayed in ancient Chinese paintings and poems. Surrounded by two rivers, four lakes and karst mountains, Guilin is home to 12 ethnic minorities. Mountains, rivers, cities, and people all seem to come together in harmony - this is Guilin. There are many scenic places within short traveling distance.
Visit:
In the city of Guilin:
Elephant Trunk Hill
Sun and Moon Pagoda (It is best to see this pagoda at night)
Diecai Mountain / Fubo Hill (One of them is enough – and the point is to see Guilin from above)
Outside Guilin:
Yangshuo
Once a small and beautiful backpacker destination, it is now heavily commercialized and jam-packed with Chinese tourists. Still, there are many wonderful places in the Li River area - just use it as a sort of base for your adventures.
Xingping
Xingping is a beautiful place just one hour away from Yangshuo (by bus). Here you can see beautiful scenery - as depicted on Chinese 20 Yuan notes.
Longsheng & Longji Paddy terraces
Xiang Gong Mountain
Climb this mountain and see the beautiful scenery of Li River from above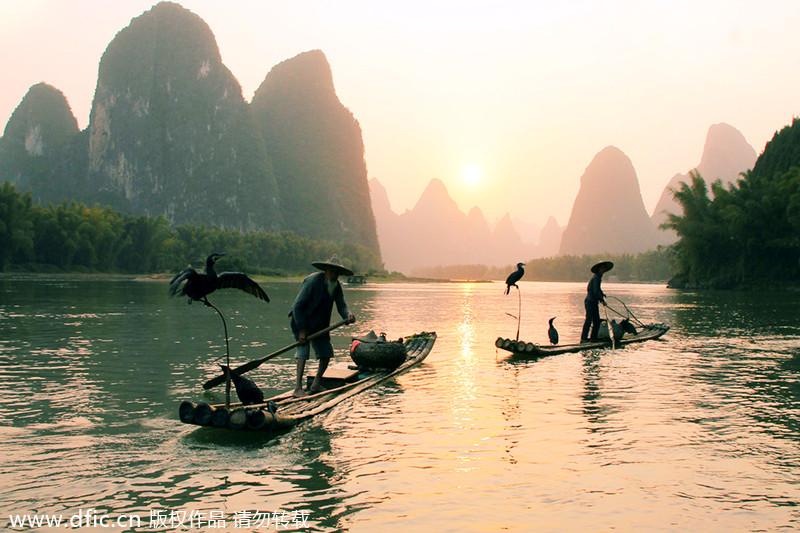 Note:
Eat: Guilin Rice Noodles, Shao Kao (Street BBQ), and Beer Fish. You can find the latter in Yangshuo.
Do:
Ride traditional bamboo rafts on the river
Watch cormorant fishing – a traditional technique using birds
Ride a bike around Yangshuo to enjoy the beautiful countryside
Take a mud bath inside underground caves around Yangshuo
Visit ethnic minority parks and watch their performances
[ChinaDaily online forum offers people from all over the world and all walks of life the opportunity to share their thoughts and feelings. Join us now! BBS:bbs.chinadaily.com.cnBlog:blog.chinadaily.com.cn]