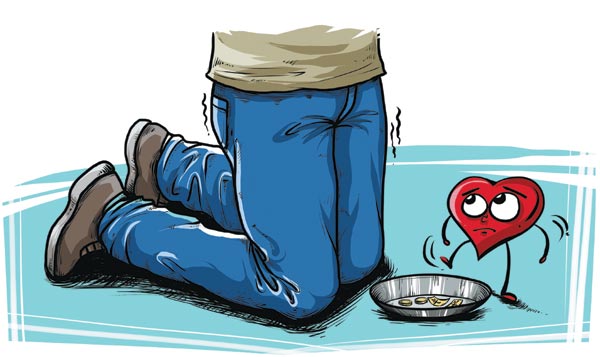 Wang Xiaoying / China Daily
A person kneeling for a donation may fetch press coverage, but for those in dire need, this tactic should be replaced by a proper safety net from the government, insurance companies and formal charities.
On June 30, a young man made headlines by kneeling in front of a corporate building to request financial help from its top executive.
Mo Xiangsong, a 21-year-old college student in Chengdu, Sichuan province, had been diagnosed with leukemia and unable to pay the medical bills. He sought help from New Hope Group - a prominent agribusiness operator headquartered locally, which boasts on its website of annual sales of around $8.8 billion.
Specifically, he wrote on a plaque that he would like to "borrow" 1 million yuan ($160,000) from Liu Chang, New Hope's chairwoman, who is said to have been paid an annual salary of 3 million yuan in 2013.
Mo was joined by 14 of his schoolmates, who all knelt down holding red roses in their hands.
Mo had a wreath on his head and another on his shoulder, in addition to a bunch of roses he held in his hands.
The meaning of the flowers, as suggested on the plaque, was "when you give a rose as a gift, you yourself will keep the fragrance", a figurative reminder that charitable giving is often in return for an uplifting of the soul.
Public opinion of the stunt was sharply divided.
For more X-Ray stories, click here