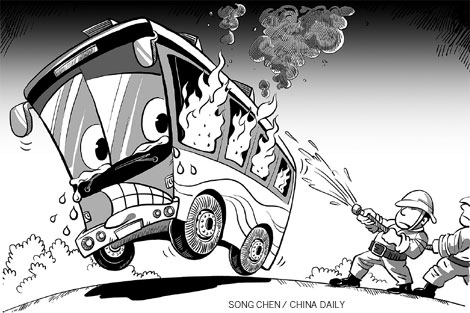 Last Friday, a suspect surnamed Chen tried to set a bus on fire in Changsha, Hunan province, but failed, confessing he was unemployed and did so to "enjoy free meals behind bars". The incident happened just five days after the Hangzhou bus fire. On July 5, 32 passengers suffered burns and injuries when a suspect set fire to a bus in Hangzhou, Zhejiang province.
Just a few months ago, a public bus burst into flames, claiming six lives and leaving 35 injured in Guiyang, Guizhou province. These incidents have left people worried about public transport safety.
It is the responsibility of the government and bus operators to ensure the safety of passengers. And since passengers' safety is vital to the success and sustainability of any transport development strategy, the government and bus operators have to take all pre-emptive measures against bus fires.
According to available data, on average 2,210 bus and school bus fires were reported in the United States every year from 1999 to 2003, and only 4 percent of them were started by disgruntled people. Similarly, arson accounted for 5 percent and 6 percent of the reported bus fires in Norway between 1997 and 2004 and Sweden between 1996 and 2004. This means most of the bus fires are caused by mechanical faults or leaking fuel tanks or pipes.
Still, the government should take steps to prevent disgruntled people from targeting public transport vehicles. Given the massive influx of daily commuters in urban areas, it is unrealistic to check every passenger's belongings before they board a bus to prevent them from carrying inflammables. But the government can stringently regulate the sale and purchase of gasoline and other inflammable and explosive materials to mitigate the risks.
Many measures can be adopted to minimize injuries and deaths even if a bus catches fire or is torched. Public bus operators should regularly check vehicles' fire detection and protection systems to mitigate potential fire risks. Immediate response to a fire alarm can prevent a blaze from spreading throughout the bus and largely reduce the number of fatalities and injuries. With proper emergency training, drivers' decisive actions can minimize (if not prevent) fatal damage.