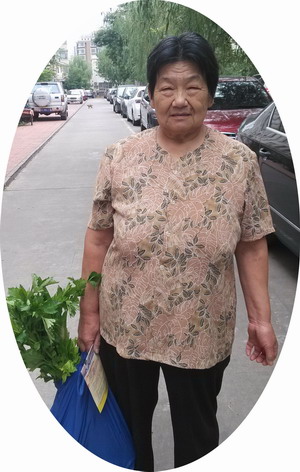 Yuan Qiaoyue, 71, from Liaocheng city, East China's Shandong province, 8 years in Beijing 
She has been in Beijing for eight years helping to take care of her youngest son for the first three years and then babysit her granddaughter for the past five years. It's a rather tough situation for Yuan as her hearing and sight have deteriorated due to old age. She finds it especially difficult to cross the road while leaving and picking up her granddaughter from pre-school. Yuan says the two trips daily are the most challenging.
Her daughter-in-law doesn't want her father-in-law to come to live with them in Beijing as he has a lung disease and she is afraid that his disease might put her daughter's health at risk.
The fact that her husband cannot be with her is another factor that worries Yuan a lot. She is forced to travel from Beijing and Shandong, a 500 kilometer journey, two or three times a year to look after her husband on her own. Given her physical condition, it is a "tough but necessary" commute.
Even though she has been here for eight years, she cannot get used to the life in Beijing, especially its food, lifestyle and language.
She does not get along well with her daughter-in-law and the tension depresses the old woman but she cannot confide her problems to anyone as nobody in the neighborhood speaks her dialect.
Although facing so many problems, Yuan chooses to stay, calling taking care of her son her "duty" and that she has to make the "sacrifice" for her son and grandchild. The good news is that she will go back home after her granddaughter starts attending primary school next year. And she will finally return to the place she is familiar with, and most importantly, look after her ill husband.