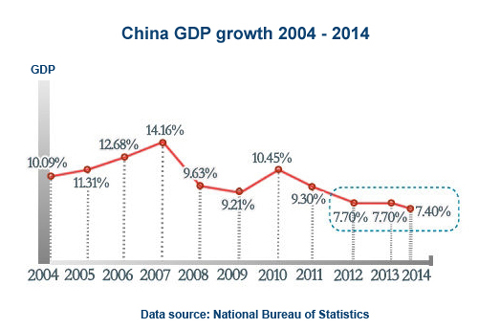 The "new normal" means the Chinese economy has entered a new phase that is different from the high-speed growth pattern exhibited in the past. It is a new trend that features more sustainable, mid- to high-speed growth with higher efficiency and lower costs.
Analysts believe the new normal state has four key characteristics:
Mid- to high-rate growth
"The growth slowdown from a high rate of around 10 percent to now about 7 to 8 percent is inevitable,"  said Wang Yiming, vice secretary-general of the National Development and Reform Commission.
Fan Jianping, chief economist with State Information Center, said many countries have seen their growth decelerate from above 8 percent directly to about 4 percent. The Chinese economy may grow at the mid to high speed of 7 to 8 percent for some years.
Structure upgraded
During the new normal state, the economic structure will undergo comprehensive and fundamental changes. The service industry will gradually become a backbone of the national economy and consumption will be the main source of demand. The gap between urban and rural areas will gradually shrink and people's income will account for a larger share of the national economy.
Amid that process of restructuring, some industries will wither and suffer from the problem of over-productivity. Meanwhile, some new growth points will spring up.
New engines
Under the new normal state, the Chinese economy will transform from the production investment-driven model into an innovation-driven model.
From the decade between 1998 and 2008, China's major industrial enterprises saw an annual profit increase of 35.6 percent. This number dropped to 12.2 percent last year, and further to 5.8 percent in the first five months of this year.
"The prolonged difficulties facing manufacturing industries show China can no longer rely on low cost production factors, as the prices of labor, resources and land are soaring," said Zhao Jinping, an economy researcher with the Development Research Center of the State Council. "Technological innovation must become the main driving force."
Challenges ahead
The new normal state has some uncertainties and challenges. The Chinese economy has fluctuated within a comfort band this year, but the risks posed by real estate bubbles, local government debt and financial uncertainties have surfaced. Those risks are inter-related and problems in any one link could trigger a chain reaction.