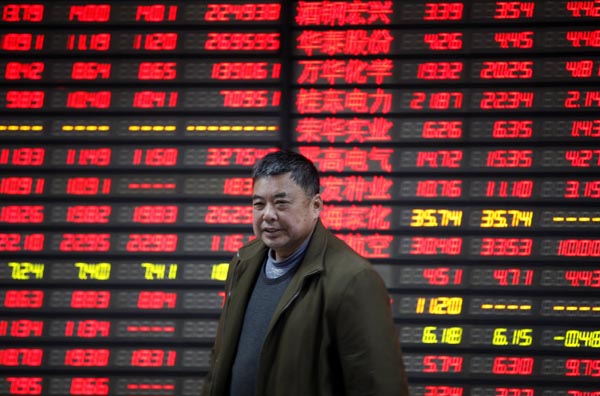 An investor smiles at a securities brokerage in Huaibei city, Anhui province, on Dec 8, 2014. [Photo / Asianewsphoto by Xie Zhengyi]
China's tone-setting Central Economic Work Conference provided valuable clues to monitor the country's policy stance and how it will influence the financial market.
On the macroeconomic front, the conference said China will continue to adopt a "prudent" monetary policy and "proactive" fiscal policy. Different from the normal wording in previous post-meeting statements, the conference said monetary policy should be neither too tight nor too loose, and fiscal policy should be more "forceful".
The statement shows that China will keep its financial policies largely stable, meaning policies that are similar to the current mini-stimulus packages will continue to be rolled out to prevent the economic situation from worsening.
The wording that requires the fiscal policy to be more forceful is especially eye-catching. It means that while China is reluctant to take large-scale stimulus measures to anchor the economy, it will not hesitate to resort to more fiscal supports to ensure it keeps going. Fiscal measures, such as infrastructure investment (including investment brought about by the One Belt and Road Initiative), will hopefully be ratcheted up even at the cost of expanded fiscal deficit ratio. It will help offset the possible adverse effect brought on by the expected further cooling of the real estate sector.