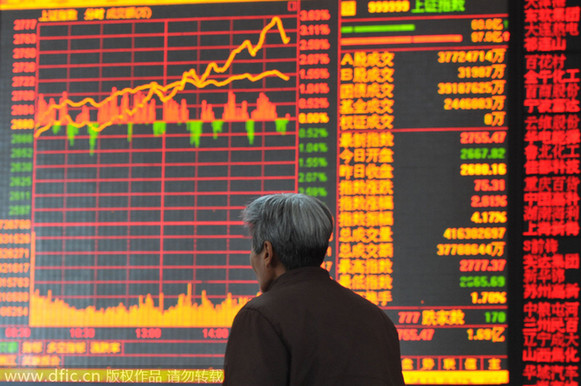 An investor checking stock index in a localbrokerage firm, at Fuyang, Anhui province, Dec 2, 2014. [Photo/IC]
BEIJING - China's stock market set a new world record for daily turnover on Friday, breaking a previous high reached only two days ago, as a boom trend that started in late November continued.
Combined daily turnover of the Shanghai and Shenzhen bourses totaled 1.07 trillion yuan (175 billion US dollars) on Friday, surpassing the previous record of 914.9 billion yuan on Wednesday.
Transactions on the two exchanges reached 639.19 billion yuan and 434.85 billion yuan respectively.
The record high turnover was reached amid rising shares on the A share market. The benchmark Shanghai Composite Index closed up 1.32 percent to finish at 2,937.65 points on Friday, and the Shenzhen Component Index closed at 10,067.28 points, up 0.37 percent.
Over 60 stocks on the two bourses surged by the daily limit of 10 percent on Friday.
Heavyweights lead rise
The remarkable performance of Chinese shares was mainly led by formerly quiet heavyweights, such as those in the banking and oil sectors.
China's four major banks jumped on Friday. China Construction Bank soared by the 10-percent daily limit to close at 5.7 yuan per share, while the Industrial and Commercial Bank of China finished at 4.59 yuan per share, up 7.49 percent.
Two oil giants, PetroChina and Sinopec, also witnessed strong growth amid a continued drop in oil prices in the international market, with their shares closing 9.88 percent and 4.96 percent higher, respectively.
Stock brokerages were winners in the bullish market, either hitting or approaching the daily changing limit.
Other sectors with strong performance included aviation, futures and the military and weapons industry.
However, majority shares of smaller companies lagged behind. Shares of 1,951 companies declined on Friday, over 75 percent of all companies listed on the A-share market.
The ChiNext Index, tracking China's Nasdaq-style board of growth enterprises, closed 2.46 percent lower on Friday.
Cut-triggered bull
Analysts believe recent interest rate cuts were the trigger for the booming market.
The People's Bank of China (PBOC), China's central bank, cut rates for deposits and lending on Nov. 21 for the first time in more than two years, followed by an increase in the Shanghai Composite Index of over 15 percent so far.
Qiu Yanying, investment director of China Fortune Securities, said the cuts signalled that the central government is resolved to stimulate growth, which brightened market expectations.
The rise was also helped by heavyweights and stock brokerages, the strong growth of which lured numerous individual investors into the capital market, Qiu said.
Yang Delong, analyst with China Southern Fund, noted policy makers' determination to reduce the cost of financing also reversed market sentiments, which were weighed down lately by relatively weak economic indicators.
"Both risk-free interest rates and risk premiums stayed on a downward streak after the cuts, which contributed to a hot A share market," Yang said.
China's economy expanded by 7.3 percent in the July-Sep. period, lower than the first two quarters. But the growth rate is expected to slightly recover in the fourth quarter due to reform dividends and pro-growth measures.