New tourism
By Yang Feiyue and Liu Mingtai in Huichun, Jilin (China Daily)
Updated: 2015-11-25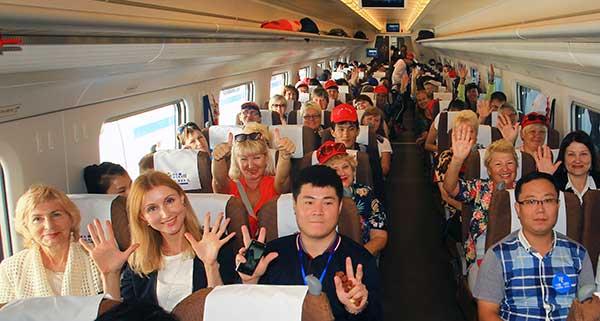 Tourists on board on the opening day of the high-speed rail connecting Jilin province's Huichun to border areas of the DPRK and Russia on Sept 20.[Photo by Dong Jingqi/For China Daily]
Northeastern China's Jilin province is going to work with its neighbors to expand tourism development in the near future.
Jilin will deepen cooperation with the Inner Mongolia autonomous region, Liaoning and Heilongjiang provinces, as well as neighboring Northeast Asian countries, including Russia, the Democratic People's Republic of Korea, Mongolia, the Republic of Korea and Japan to develop joint travel programs, says Lin Tian, deputy head of the Jilin tourism bureau.
The Greater Tumen Initiative was launched by the United Nations Development Programme in 1995 and has been an important facility for Northeast Asia intergovernmental cooperation in transportation, energy, tourism, investment and environment.
Lin was among the speakers at the GTI Northeast Asia Forum held in Huichun city, Jilin, on Nov 10. Nearly 100 government officials and experts from home and abroad exchanged ideas on developing cross-border route, easing travel visa procedures and establishing a cross-border tourism reception training center, China-Russia cross-border tourism demonstration zone and luxury cruising tour of the Sea of Japan, known in the Koreas as the East Sea.
As the permanent host of the forum, Huichun will strive to transform itself into a leisure tourism destination in Northeast Asia, says Gao Yulong, the city's Party secretary.
"Now, Northeast Asia has become an important part of the international tourism market," says the China National Tourism Administration's Peng Decheng, adding that Northeast Asian countries all share fascinating history and culture and all of the economies have huge tourism market needs.
More than 100 million people are traveling in the region, according to Peng.
China has paid great attention to tourism development in the region since 2012, with programs designed to introduce 9.5 million tourists from Northeast Asian countries to its northeastern area by 2015.
The figure is expected to double to 18 million by 2020, with 12 percent annual growth.
Peng says that there's huge potential in tourism cooperation and development in Northeast Asia.
Tourism has become a strong engine behind economic prosperity and is receiving increasing attention, says John Koldowski, an adviser on research issues for the US-based Pacific Asia Travel Association.
An international economic cooperation organization involving China, the ROK, Mongolia and Russia is expected to be launched next year, according to Li Tie from the Tumen River regional cooperation and development experts team.
Tourism infrastructure at Tumen has matured as construction of China-Russia rail and water transportation system and China-Mongolia rail accelerates, Li says.
The opening of high-speed rail connecting Huichun to border areas of the DPRK and Russia on Sept 20, the official inauguration of Vladivostok free port construction and the China-DPRK Rason economic trade zone development have all played a positive role in Tumen's tourism development, he adds.