Inner Mongolia's geographic advantages
(en.nmg.gov.cn)
Updated: 2013-12-17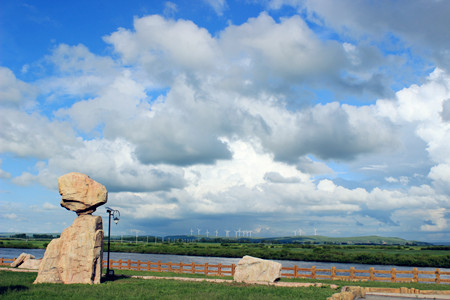 Inner Mongolia stretches across northern China, bordering eight provinces and a relatively short distance from the cities of Beijing and Tianjin. Photo by Wang Yihao
Inner Mongolia stretches across northern China, bordering eight provinces and a relatively short distance from the cities of Beijing and Tianjin, the markets of northeastern China, other central Chinese markets, and a number of seaports.
It is an important area for the Bohai Economic Rim (on the Bohai Gulf of the Yellow Sea) and China's Northeast Economic Zone, and an important economic link between northern China and the vast northwestern part of the country. The government of the autonomous region is developing economic belts along the Yellow River and major traffic arteries and growth in the region is expected to have a major impact on the Bohai Economic Rim and areas along the Yellow River.
One key State development zone is the tri-angular Huhhot-Baotou-Ordos area, which covers 114,000 square kilometers.
The northern border of Inner Mongolia runs for 4,221 km along Russia and Mongolia, and the city of Manzhouli, which borders Russia, is a key State experimental zone for economic development and opening up. In addition to Manzhouli, there is Erenhot and 17 other border ports in Hohhot, Hulunbuir, and other cities.
Six of these ports – Manzhouli (railway), Manzhouli (road), Heishantou (waterway), Shiwei (waterway), Erka (road), and Hulieyetu (waterway) -- are direct links with Russia, while 10 ports - Erenhot (railway), Erenhot (road), Ceke (road), Ganqimaodu (road), Zhuengadabuqi (road), Arihashate (road), Mandula (road), Ebuduge (waterway), Aershan (road), and Bagemaodu (road) -- are direct links with Mongolia.
The region also has three international air ports -- Huhhot, Hailar, and Manzhouli -- which, when combined with its border ports, resources, and markets, make Inner Mongolia a unique, advantageous site for international logistics, trade, the import - export business, border tourism, and other industries. It can also provide China's interior with favorable conditions for further opening up.