Fast facts
(en.nmg.gov.cn)
Updated: 2013-12-16
Geography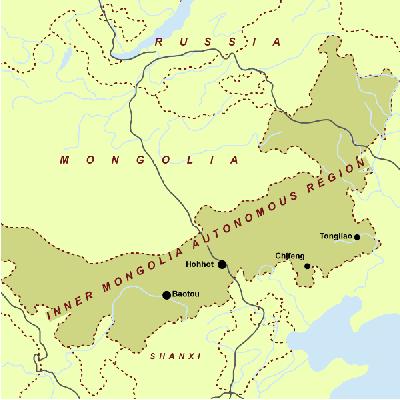 The Inner Mongolia Autonomous Region is situated 97"12"-126"04" east longitude and 37"24"-53"23" north latitude with an area of 1.183 million square kilometers, taking up 1/8 of that of the country and ranking the 3rd in China. Inner Mongolia has not only a large area but also geographical advantages, bordering Heilongjiang, Liaoning, Jilin, Hebei, Shanxi, Shaanxi, and Gansu provinces as well as Ningxia Hui Autonomous Region in the east, south and west. It spans the northeast, north and northwest of China and borders Russia and Mongolia in the north with a boundary line as long as 4,221 kilometers, thus becoming am important frontier for China's opening to the outside world.
Climate
Inner Mongolia, with a temperate continental monsoonal climate, has a cold, long winter with frequent blizzards and a warm, short summer. Except for the relatively humid Greater Hinggan Mountain Area, the greater part of Inner Mongolia is arid, semi-arid and semi-humid from west to east. It has a mean annual temperature of -1℃-15℃ -- the hottest month, July, averaging 15-25℃ and the coldest month, January, -30-10℃ -- and a mean annual precipitation of 100-500 mm. The difference of temperature between day and night is great.
Administrative division
The Inner Mongolia autonomous region has nine cities -- Hohhot, Baotou, Wuhai, Chifeng, Tongliao, Erdos, Hulunbuir, Ulanqab and Banyannur; three leagues -- Hinggan, Alxa and Xilin Gol; two municipalities with independent planning statues, Manzhouli and Erenhot; and 52 banners.
Food
Roast lamb, Instant-boiled mutton, finger mutton and milk tea, etc.
Culture
Mongolians like singing and dancing.