Editor's Note
Inner Mongolia has made significant progress in boosting comprehensive strength and economy growth over the past decades. With the new leadership, Inner Mongolia plans to put earnest efforts in improving its economy, culture, and people's livelihoods, expecting more sustainable development in the future.
This year marks the 70th anniversary of the establishment of the region, during which various celebrations are planned to showcase the prosperity of the autonomous region, specifically its ethnic diversity and economic development.
On Aug 16, the 2nd Mongolian Medicine Expo, in conjunction with the Eurasian and Pacific Academic Forum on Mongolian Medicine, began in Tongliao.

Read More

The 2016 Inner Mongolia Big Data Promotion Conference commenced at the China National Convention Center in Beijing on Nov 7.

Read More
During the 13th Five-Year Plan period, China's Ministry of Finance has proposed to allocate 4.58 billion yuan ($685.91 million) to Inner Mongolia each year, representing an annual increase of 530 million yuan.

In 2016, the annual budget for poverty reduction in the Inner Mongolia autonomous region rose to 5.79 billion yuan ($870 million), a year-on-year increase of 21 percent, according to the local finance department.

Hundreds of staffers from Hohhot Railway Station worked on controlling desertification along the Linhe-Ceke railway in sparsely-populated deserts.

A newly-constructed children's palace was unveiled at the Inner Mongolia Hangtian Primary School, in Hohhot's Saihan district, Inner Mongolia autonomous region, on Oct 18.

A reading room on grasslands of Abag Banner, Xilin Gol League has provided the chance for local herdsmen to learn practical skills in husbandry and breeding in addition to further educational pursuits.

A group of community volunteers served the elderly with spoons of Laba congee to warm up before the upcoming festival in the Qingquan community of Yuquan district, in Hohhot, on Jan 4.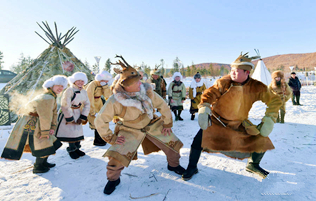 Horse performances were held during the 14th Ice and Snow Nadam in conjunction with the 7th Art Festival of Mongolian Winter Costumes held in Xilin Gol League, on Jan 6.

A 50-kilometer camel race was held in Urad Rear Banner of Bayannur League, North China's Inner Mongolia autonomous region on Jan 3.
Tourism Spots