Students celebrate region's anniversary with paper-cuttings
(chinadaily.com.cn)
Updated: 2017-04-27
Some photographs of paper-cuttings made by college students in Inner Mongolia have recently attracted a lot of attention online.
Many people have reposted the photographs in internet forums and on micro blogs.
The series of paper-cuttings made by sophomores from Inner Mongolia Finance and Economics University vividly depicts scenes of college life.
Recently, the students who created the paper-cuttings have started a new creation. This time, they will create a paper-cutting with six different scenarios of more than 70 characters measuring as long as 5.4 meters.
They have already finished the framework of the paper-cutting.
"As college students, we will find our own way to celebrate the 70th anniversary of the founding of the Inner Mongolia autonomous region," said Yang Hongguang, a sophomore from the IMFEU.
Yang founded a paper-cutting association in October 2015, with the intention to promote this traditional folk art among students.
Yan comes from Yulin, Shaanxi province, where traditional folk arts are popular, including stone-carving, clay-sculpting and willow-weaving.
Yang is so fond of making paper-cuttings that he started to learn the craft with his grandmother when he was only 5 years old.
"Every year, before the Spring Festival, my neighbors often ask me to make paper-cuttings for them, since decorating windows with paper-cuttings is a traditional custom for every family in my hometown before the Chinese Lunar New Year," he said.
"I usually have a sense of achievement after I have finished making the beautiful red paper-cuttings," he added.
Since Yang lived in Shaanxi for many years, he integrates Shaanxi culture into his work. However, he began to combine Inner Mongolian ethnic culture with his paper-cuttings after coming to study in the autonomous region.
"This year marks the 70th anniversary of the founding of the Inner Mongolia autonomous region, and I would like create a paper-cutting to celebrate the anniversary," he said.
Yang claimed that it will take a lot of time to make the paper-cutting due to its size.
His work will consist of six scenarios, depicting great changes that have occurred from the founding of the autonomous region in 1947, to the present day.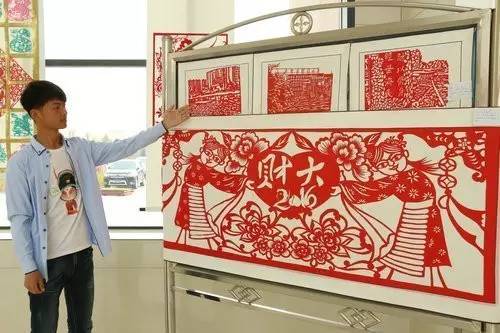 Yang Hongguang, a sophomore from Inner Mongolia Finance and Economics University introduces one of his paper-cuttings. [Photo/Inner Mongolia Morning Post]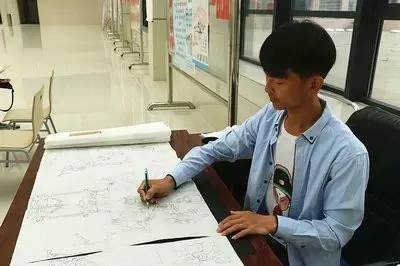 Yang Hongguang, a sophomore from Inner Mongolia Finance and Economics University draws a sketch for the paper-cutting he will make to celebrate the 70th anniversary of the founding of the Inner Mongolia autonomous region. [Photo/Inner Mongolia Morning Post]