Inner Mongolia seeks collaboration with SOEs
By Zhao Xiao (chinadaily.com.cn)
Updated: 2017-02-28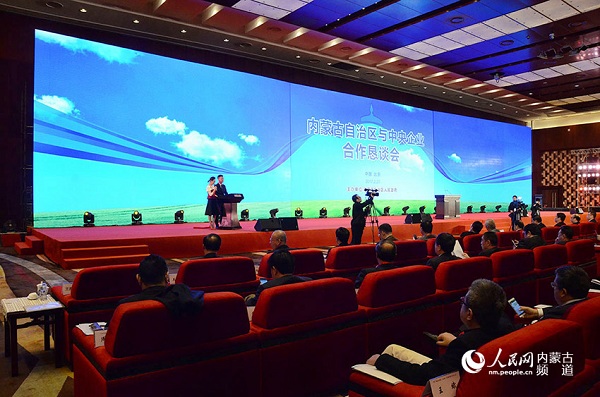 The promotion conference is held at Beijing's China National Convention Center in Beijing on Feb 27. [Photo/people.cn]
Inner Mongolia government recently invited State-owned enterprises (SOEs) to participate in a meeting, attempting to promote regional advantageous projects and hoping to negotiate for trade and investment.
Sponsored by the Inner Mongolia People's Government, the promotion fair was held at China National Convention Center in Beijing on Feb 27.
The conference centered on 338 large projects in sectors including infrastructure, power grids, modern services, urbanization, and exploitation of resource-abundant areas.
Guests attending included officials from national ministries and commissions, heads and representatives from State-owned companies, financial agencies, and investment foundations.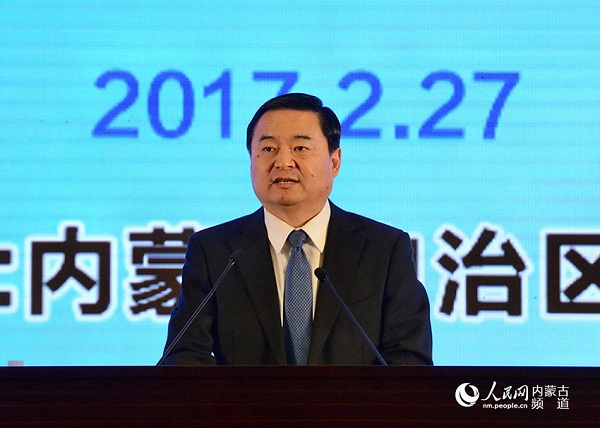 Hao Peng, Party secretary of the State-owned Assets Supervision and Administration Commission attached to China's State Council, addresses the conference. [Photo/people.cn]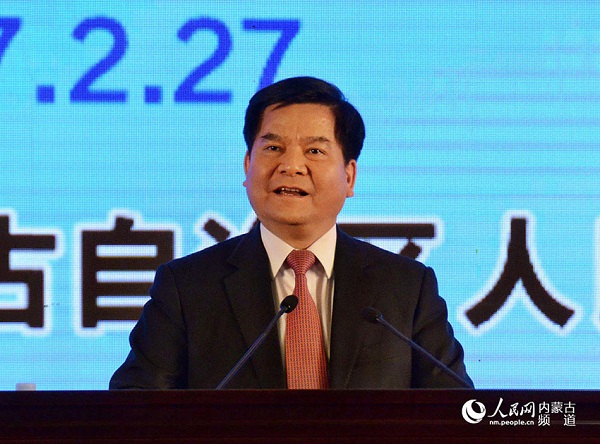 Li Jiheng, secretary of Inner Mongolia Party Committee, gives a speech to introduce land available for investment during the conference. [Photo/people.cn]
During the conference, Li Jiheng, secretary of Inner Mongolia Party Committee, gave a speech to introduce the current development and investment environment of the region, and conveyed his welcome to large corporations and businesses coming to the area for collaborations.
In recent years, Inner Mongolia has built firm partnerships with several business giants, including China National Petroleum Corporation, China National Offshore Oil Corporation, Aluminum Corporation of China Limited, and State Grid Corporation of China, achieving mutually beneficial relationships and improving the region's economic and social development.
Thanks to its location, the region has taken steps in implementing national strategies for China's Belt and Road Initiative and the China-Russia-Mongolia Economic Corridor.
During the 13th Five-Year Plan (2016-2020), Inner Mongolia has focused on the industrial sectors of clean energy, new metal materials, environmental protection, big data, cloud computing, biotechnologies, Mongolian medicines, and tourism.
State-owned giants have mature developing models and comprehensive strategies, which will broaden the range of potential cooperation fields.
Parallel sessions convened to introduce nine cities and leagues, including Baotou, Ordos, Hinggan League, Xilin Gol League, Ulanqab, Wuhai, Bayannur and Alxa League, all seeking to start negotiations and sign trade contracts.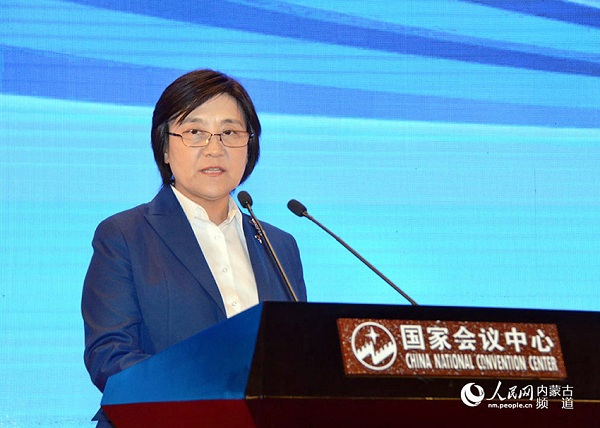 Bu Xiaolin, chairwoman of Inner Mongolia People's Government, delivers a speech concerning the region's future strategies on Feb 27. [Photo/people.cn]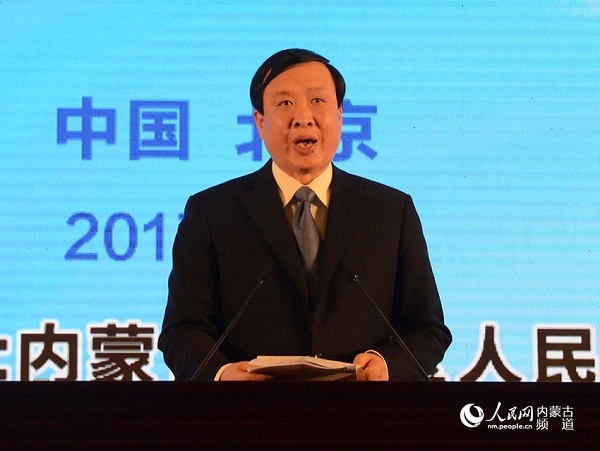 Zhang Jianmin, vice-president of the Inner Mongolia People's Government, promotes on-going large-scale projects in the region. [Photo/people.cn]