Ice sculptures brighten winter night in Arxan
By Zhao Xiao (chinadaily.com.cn)
Updated: 2017-01-18
As fireworks bloom in the night sky, Inner Mongolia's Arxan reveals itself as a winter dreamland with fantasy castles, cartoon images, iconic buildings, creative scenes, and amusement facilities all made out of ice, enticing visitors to explore the frozen neon funfair.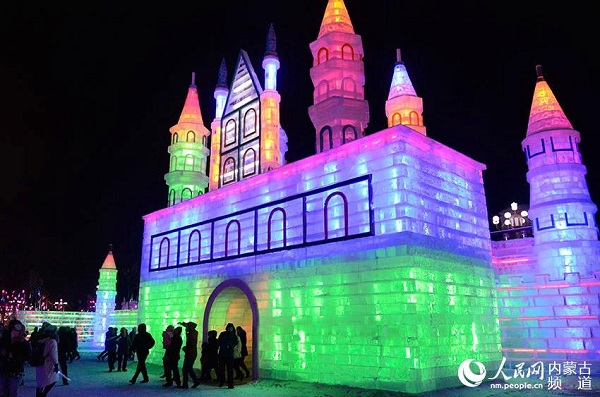 A castle-shaped ice sculpture is exhibited for visitors at a theme park in Arxan, Hinggan League of Inner Mongolia on Jan 6. [Photo/people.cn]
Roaming the ice-themed park, visitors can closely view ice sculptures glistening under colorful lights, and also experience entertaining snow sports such as curling, ice bowling, tug-of-war on a snowy field, and sledge races.
Furthermore, events like a bonfire party and fireworks celebration will also be presented to visitors until March 20, 2017.
The ice funfair has used a total of 7,800 cubic meters of ice and 21,000 cubic meters of snow since its opening on Jan 6.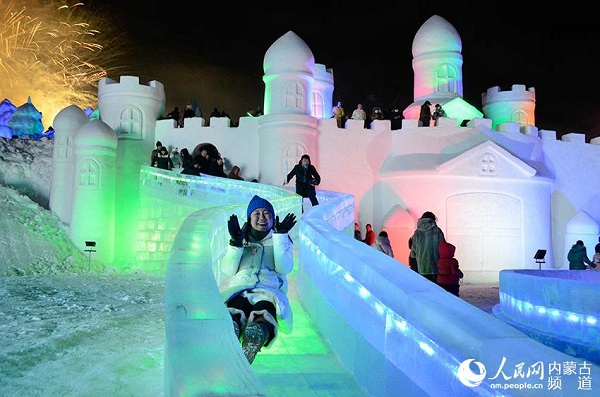 A tourist zips down an ice slide at a theme park in Arxan, Hinggan League of Inner Mongolia on Jan 6. [Photo/people.cn]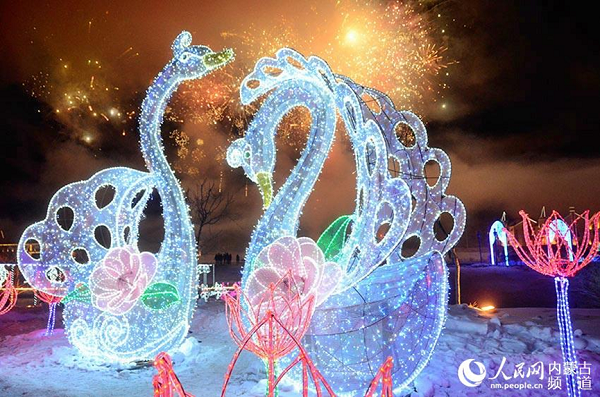 Two swans decorated with lights sit under exploding fireworks at a theme park in Arxan, Hinggan League of Inner Mongolia on Jan 6. [Photo/people.cn]