'Made in Baotou' animation wins hearts nationwide
Updated: 2017-01-09
Grass Elf, the first 3D animation created and produced by a Baotou-based company, made its debut on Tencent and iQiyi on Dec 23, and has so far received more than 10 million views, according to Baotou Evening News.
The 52-episode 3D animation targets the protection of grasslands and promotes the traditional grassland culture of Inner Mongolia, and is the first 3D animation from the Inner Mongolia autonomous region. The animation has been shown at exhibitions in Germany, Mongolia and France.
Han Zhijian, brand director of Grass Elf, claimed that the story was made for children and expressed a child's innocent view of the world.
The animation was made with an appreciation for grassland culture embedded in the hearts of every team member. The elves in the animation are the guardians of grass seeds, fighting against field mice that steal and eat the seeds. Through the stories of the elves, the animation is aimed at promoting bravery, kindness and persistence among children.
The production team went to the grasslands several times to frame a shot and capture the images.
Being one of the emerging industries in China, the animation industry has been recognized as one with great potential. But the development of the industry was stagnant due to limited themes and inadequate content. Most of the animations produced in China target adults, so the production team of Grass Elf seized the opportunity and produced the animation in the hope that it would fill a gap in the market.
To make Grass Elf suitable for children, the animation was carefully made over a three-year period, and scenes containing violence and inappropriate jokes were cut.
"I am a father myself and I would very much like to choose an animation without inappropriate content for my children," said Han.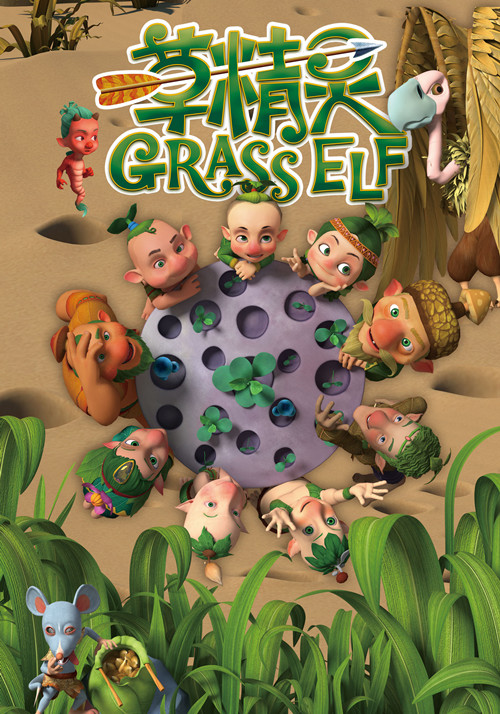 A promotional poster for the Baotou-produced Grass Elf movie. [Photo/internet]