Thousands flock to Ordos for international marathon
(chinadaily.com.cn)
Updated: 2016-08-22
More than 15,000 professional and amateur athletes took to the dusty roads surrounding Ordos, Inner Mongolia autonomous region, for the international marathon held on Aug 21.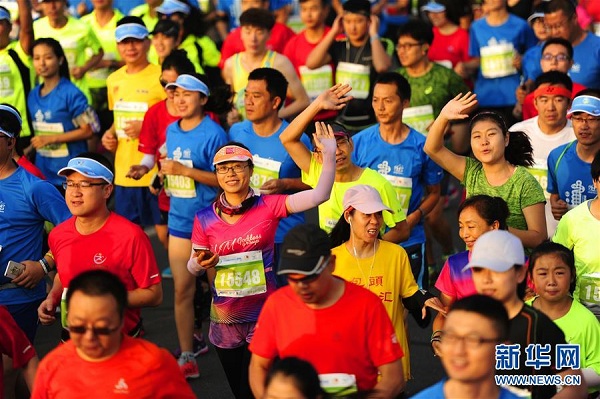 Participants of different ages from all walks of life join the Mini Marathon (5km), a division of the Ordos International Marathon, on Aug 21. [Photo by Deng Hua/Xinhua]
Ethiopian athlete Bekele Zula won the men's full-distance race in 2:27:53 and Chinese runner Zhang Jingxia from Gansu province finished first for the women's full-distance in 3:05:55.
The marathon started in Binhe Square in Ordos and finished at Genghis Khan's Tomb, in the Ejin Horo banner of the city. The route was designed to look similar to the Mongolian bow, an important symbol of the local culture.
The series of races, including a full marathon (42.2 km),a half marathon (21.1 km), and a mini marathon (5 km), attracted more than 15,000 professional athletes and running enthusiasts from all around China, as well as about 40 foreign athletes from 15 countries including Ethiopia, Uganda, Russia,Afghanistan, and others.
 In the men's full marathon contest, Inner Mongolian athlete Bao Bileg took second place with 2:32:15, and Jia Junfeng took third with 2:41:03. As for the women's, Inner Mongolian runner Qian Ariunaa won second place with 3:15:05, and Fang Guangxia from Shandong province took third with 3:19:02.
In the Half Marathon, Liu Tao from Hohhot and 20-year-old Li Ke from Bayannur won the male and female races, respectively.
The marathon was hosted by Chinese Athletic Association, the Sports Bureau of Inner Mongolia autonomous region, and the Ordos government.