Perceiving China at Ulaanbaatar•Inner Mongolia cultural week
(chinadaily.com.cn)
Updated: 2016-08-21
A cultural week serial festival opened at the national art museum, Ulaanbaatar, Mongolia, on August 18, with a string of surprises and activities in store until August 30.
Cui Yuying, vice director of the Chinese States Council Information Office, Otgonbayr, vice minister of Mongolia Education, Culture, Science and Sports, and Xing Haiming, Chinese ambassador to Mongolia, together with about 300 representatives of all walks of life in Mongolia attended the opening ceremony.
They then visited a "China Beauty" themed exhibition, which showcased China's cultural charms and development achievements in photographs, 3D virtual reality videos, books, Mongolian calligraphy and interactive activities focused on Chinese intangible cultural heritages.
The follow-up activities will be a China-Mongolia press forum and representative Chinese children drama displays.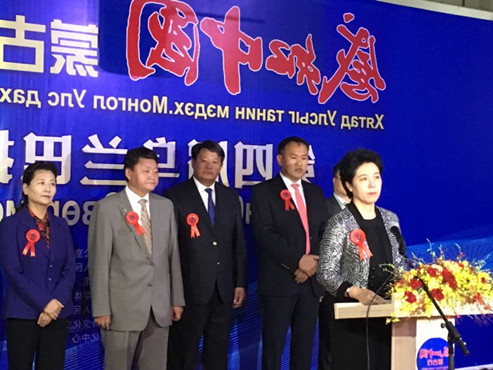 Ulaan, director of the Party Publicity Department of Inner Mongolia, China, addresses the opening ceremony. [Photo provided to China Daily]