Inner Mongolia promoting winter tourism in Beijing
(chinadaily.com.cn)
Updated: 2015-12-03
Anyone wanting to visit Inner Mongolia autonomous region may have something new to experience this winter, such as travel routes to the region's Hinggan League and Xilingol League and the cities of Hulunbuir and Chifeng as well as Nadam activities.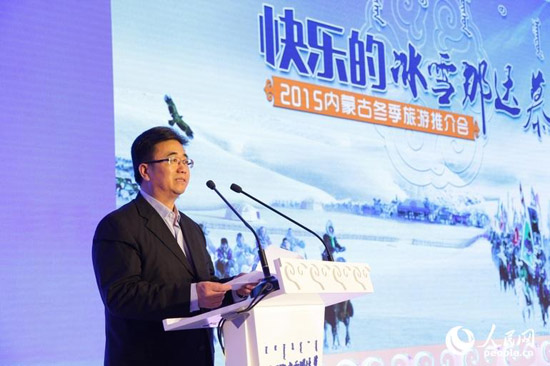 Wei Guonan, head of Inner Mongolia Tourism Administration addressing a tourism promotion conference, in Beijing, on Dec 1. [Photo/people.cn]
The news comes from the Inner Mongolia Winter Tourism Product Promotion Conference that opened in Beijing on Dec 1 with the theme of "Happy snow and ice Nadam", which is a traditional Mongolian festival with everything from skiing and ice skating to distinct customs such as camel racing and wrestling.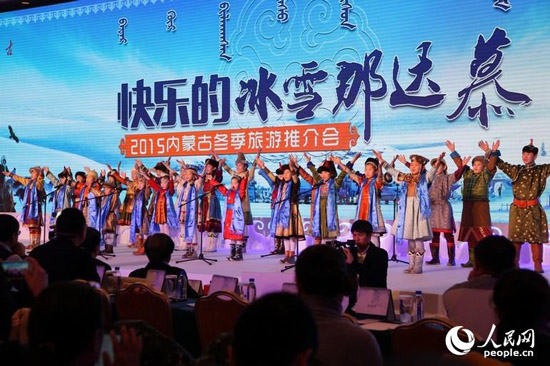 Children's choir from Hulunbuir, Inner Mongolia performs at the promotion conference, in Beijing, on Dec 1. [Photo/people.cn]
The head of Inner Mongolia's tourism bureau, Wei Guonan, pointed out that Inner Mongolia's snow and ice tourism differs from that of Heilongjiang province, which is also popular for winter tourism, because Inner Mongolia's involves fewer urban areas and more nature and ethnic flavor.
Wei went on to explain that its main item is Nadam, which has different levels —the national, regional or family —then added, "We can tailor a Nadam to fit the tourist's needs," and that tourists can experience the life of herdsman, and there are other winter tourism choices.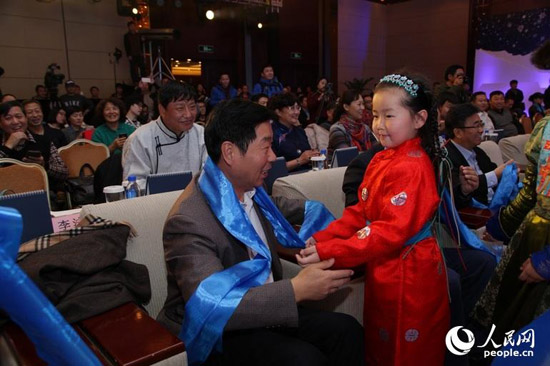 Hulunbuir children's choir member presents a hada (traditional Mongolian honorary scarf) to a guest at the promotion on Dec 1. [Photo/people.cn]